1. This week has gone really fast, but also been really grey. I have had to diffuse A LOT of essential oils to help us stay happy. Luckily the sun is back today.
2. We finally got the windshield replaced on my husbands car this week. The crack had gone all the way across the whole windshield. Last time I picked up my Mom she was a bit nervous...so I figured it was time.
3. I am anxiously waiting for a big box of review stuff to arrive - It's driving Little J crazy, everyday he goes out to look. Maybe today is the day :)
4. It's time to sign up for
Pizza Hut - Book IT
Home-School enrollment. I love this program - however my kids love it more :)
5. Little J went to the Ophthalmologist yesterday his vision is still getting better. I am so proud of him. He still looks very little in the huge chair. The funniest thing though is he loves the eye test that shoots a puff of air into your eye. The Ophthalmologist thinks this is the cutest, she doesn't have any other patient young or old who likes it.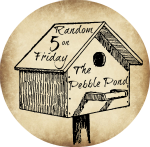 ©2011-2014 Chickensbunniesandhomeschool. All rights reserved. All text, photographs, artwork, and other content may not be reproduced or transmitted in any form without the written consent of the author Chickensbunniesandhomeschool.blogspot.com