As you know Little J struggles with Amblyopia and so I am always on the look out for learning products that help his hand-eye coordination. We were recently given the opportunity to review some amazing products by
Learning Wrap-ups
. Honestly this was a huge review and we have benefited from all the amazing products we have been able to try. I will list all of them and then talk about them individually. All of the items listed below apart from the 1st grade math and reading cards are suitable for grade K-5.
Physical Products
1st Grade Math Learning Palette 1 Base Center Set
1st Grade Math LP Titles
1st Grade Reading Learning Palette 1 Base Center Kit
1st Grade Reading LP 5 Pack
Math Intro Wrap-up Kit w/o CD
Vocabulary Intro Kit - Wrap-ups
10 Days Book & Multiply Wrap-up combo
10 Steps to Addition Mastery Book & Wrap-up
Online Product
Learning Palette (Online Version)
When we received this huge box of supplies Little J did a happy dance. He loves getting mail, and a parcel is even better. He was really excited and we started working on them straight away.
We have really enjoyed using these items. I have had different kids using different things so the easiest way to make sure I don't forget anything is to start at the beginning.
The first thing we worked on was the online
Learning Palette
we actually had access to this before the parcel arrived and so it was an excellent introduction. I signed Little J onto the website and I was impressed that we had access to all levels. This was excellent as I knew that we had the
Grade 1 LP Math and Reading Titles
I thought it would be a good idea to review some of the online Kindergarten Learning Palettes. Little J really liked the online program. When signed in the first place you go to is a screen showing all the levels basic - level 5. Anytime that we are signed in I can click on the 'Progress Report' button and see all of the online cards that Little J has completed as well as the average time and score of each card. Little J and I really wished that the online program spoke to you. This would be especially useful in the younger grades K-2. The older grades of course can read thoroughly and so it wouldn't be as useful. This program is suitable for children from Kindergarten to 5th Grade (or older if used for review).
LearningPalette Online
is available for $59.99 for up to five users. Plus if you use the code "Homeschool" you receive an additional 20% off that price which brings it down to $48.00 for 1 year access.
1st Grade Math Learning Palette
1st grade Math Learning Palette 6 pack cards
($71.99) and
1st Grade Reading Learning Palette
1st Grade Reading Learning Palette 5 pack Cards
($61.99)
When we got these palettes out of the box Little J was over excited. Each set comes in its own bag that keeps everything organized. We have being doing Kindergarten with Little J this year and so when I was look at the card samples I decided to go ahead and ask for 1st grade as he had covered most of the material in the Kindergarten sets. We also used the online version of the cards for him to work more independently on the Kindergarten sets. The kits themselves are large hard plastic circles with small colored circles, some solid and some with a hole in the center. You place a card in the center which lines up with spaces for the circles. When the child figures out the answer they place the correct colored disk in the space. When the child is finished the card is turned over and the if the colors match the child has got the answer correct.
We started working on these palettes every other day. Little J can't read well enough to work on these by himself so Jam and I took turns reading the instructions for him. He liked them, it was nice to have something for him to use that doesn't beep and bop all the time. Some days he was excited to play with the palettes and sometimes he only wanted to do either maths or reading. I kept this light and let him choose whether he did one or both.
Although trust Little J to find a way to make noise with it.
Math Intro Wrap Kit w/o CDS
($44.99)
These wraps were designed by a fourth grade teacher to help her students learn their math facts. All of my kids have used these. However Boo used the Multiplication wraps the most whilst Little J spent time with the Addition wraps. Jam, Boo, and myself had no problem using the wraps. Little J struggled a little with coordination to hold it and wrap the string around tight enough so that it wouldn't slip of the notch. However he definitely has improved his recall of his addition facts.
Vocabulary Intro Kit - Vocabulary Wraps
($35.99)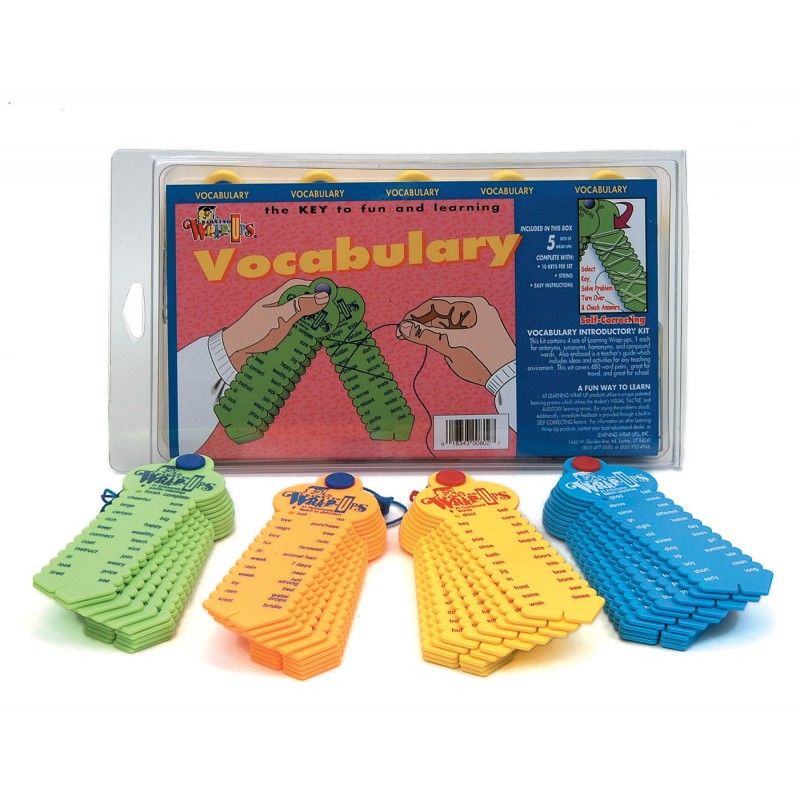 Jam and Boo have been working with these kits. They are a little above Little J right now because of his reading level. This kit consists of four wraps synonyms, antonyms, homonyms, and compound words. As soon as Little J is reading enough these kits will be very useful. Jam and Boo both found them a bit easy. However they still liked to time each other - Healthy competition.
10 Days Book & Multiply Wrap ups
($12.99)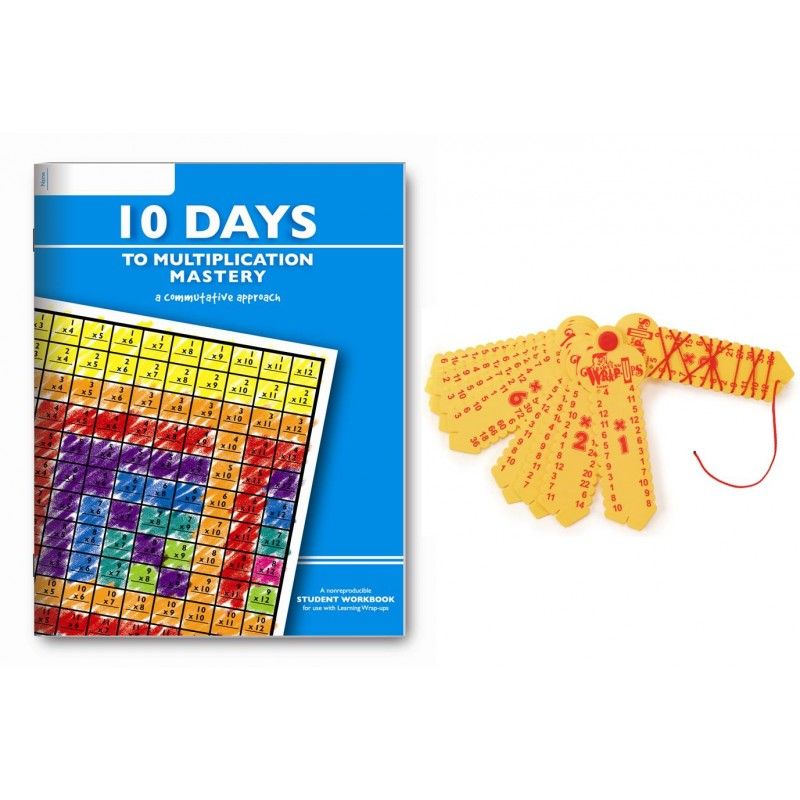 Boo grabbed this set the minute it came out of the box and has completed the whole thing. I will definitely buy this book when Little J is ready to learn his multiplication facts. Boo has struggled with the harder multiplication facts for the last couple of years. For some reason she felt that they just wouldn't stick. Her confidence has definitely improved since working through this 10 day program. The only thing she mentioned when I spoke to her about it, was the fear of not remembering them in a different order. For some reason she is concerned that she has memorized the pattern. She thinks she still needs to practice more verbally as she wants to be able to know them instantly.
($12.99)
Little J liked this book even though some of it is a little advanced for him. When I showed him this book he started to answer the questions in the book. He knows all his +1 and +2 facts and so he loved that he could use a book similar to the multiplication book Boo was working in. Although this is called a 10 Step book we have split it down into a lot smaller lessons. Jam decides how much he wants to do and I'm happy with that. Even on his schedule we are still about half way through the book. He can't really work on the speed drills yet. However we will definitely work up to that.
We have had a lot of fun with these programs. The online program is a favorite. I love the fact we can jump around levels. It has helped me customize a program for Little J. The Learning Palettes are bright and inviting and Little J loves to play with them. However he is done for the day after one or two cards. The wraps are awesome, they are easy to carry about which makes them great to use for 'car-schooling' in fact Boo was using them on the way to our piano lessons today (a 2 hour return drive). I would have taken a picture but - safety first-.
There are so many things to review and so many different ages that you really need to check out all the reviews that have been posted. You can click on the picture below to see the whole list.


©2011-2014 Chickensbunniesandhomeschool. All rights reserved. All text, photographs, artwork, and other content may not be reproduced or transmitted in any form without the written consent of the author Chickensbunniesandhomeschool.blogspot.com