1. Today is Friday the 13th and a full moon. I'm not superstitious but I did find it a fun fact that this won't happen again until 2049. Even though I just read that only those living in Asia, Africa, Europe, South America — and those in the Eastern Time Zone — experienced the full moon on June 13. The full moon showed up at 12:11 a.m. ET, so anyone in time zone west of EDT saw the silver-dollar moon the day before, on June 12.
2. Jam has been at scout camp ALL week. My husband dropped him off at 3am Monday morning so he could arrive by 6am with the rest of his troop. Boo has been walking around all week like her arm has been amputated. I wonder how long it will take them to start arguing when he arrives back.
3. The kids have made ******* for Father's Day. I got some great deals on candy at CVS today. Boo did all the work since Jam is at camp. They made one for Dad and Grandpa...and they are VERY excited. I will show pictures later - just in case some one reads this before Sunday.
4. Boo has been working really hard this year with her swimming. She has not swam in a meet yet. Tomorrow is the first one and she's a little sad that Jam will still be at scout camp so she will have to go without him. She will be swimming 50 Free, 50 Back, 200 IM, and 2 relays. Talk about jumping in at the deep-end.
5. It's World Cup frenzy in our house at the moment. My husband loves soccer, but we never really watch until the World Cup comes around. So every four years we go soccer crazy. We get to support 2 teams again this year GO USA - GO ENGLAND.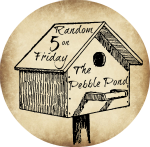 ©2011-2014 Chickensbunniesandhomeschool. All rights reserved. All text, photographs, artwork, and other content may not be reproduced or transmitted in any form without the written consent of the author Chickensbunniesandhomeschool.blogspot.com