This week has been crazy. Here's a few things that have happened;
1. My niece arrived from England on Tuesday. She is staying with us for 5 weeks.
2. We became citizens of The United States of America. It has been about 15 years since we first moved here. My Parents and some good friends were with us. If you have never been to a Naturalization Ceremony then I would definitely recommend it! You don't have to have an invitation. People from 27 countries were represented.
3. My youngest nephew turned one and we had a party with all the family. My sister turned up and surprised everyone. We knew she was coming for my niece's wedding next week, but it was nice to see her earlier than expected.
4. The kids have had two swim meets so far. They are doing really well and enjoying it. This week my husband and I were timers. It's fun being involved. It is SO hot my tan is coming on really well, and I'm not even sunbathing.
5. My niece is getting married next week. I am so excited for her. It's a bitter sweet time as it makes me think of Heather and how old she would be now. My niece and Heather are 11 months apart in age and did everything together. It makes me think what she would be doing if she hadn't passed away.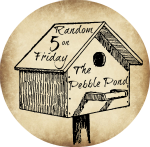 ©2011-2014 Chickensbunniesandhomeschool. All rights reserved. All text, photographs, artwork, and other content may not be reproduced or transmitted in any form without the written consent of the author Chickensbunniesandhomeschool.blogspot.com