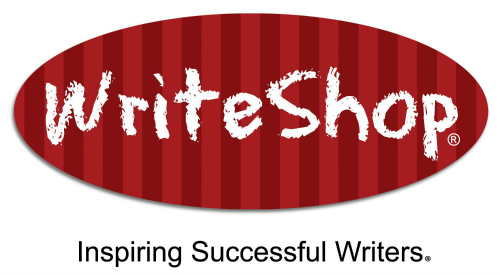 Boo loves to write and so I was intrigued when I was offered to try a new writing program.
WriteShop
is an award winning writing program designed for K- High-School. We were offered
WriteShop Junior Level E
which is designed for 4th or 5th graders (or even reluctant 6th and 7th grade writers). Boo was just finishing up her 5th grade year and so we thought we would give it a try even though she is nearer the end of the recommended age range.
What we got:
Book E Teacher's Guide: Spiral-bound Print Version $45.95 (digital download available for $35.50)
Activity Pack: Print version is $45.95 (digital download available for $35.50)
Optional Time-Saver Pack: Print version is $14.95 (digital download available for $6.50)
Optional Junior Writer's Notebook 1: Available only in digital PDF format - $3.50
Table of Contents:
Fables
Humor
Adventure
Science Fiction
Mystery
Poetry/Shape Poems
Personal Narrative
Descriptive Narrative
Book Report/Responding to Literature
Expository Writing: Nonfiction Report
Skills Taught in Book E:
Writing in different fiction genres
Writing nonfiction and book reports
Answering journal prompts
Planning and organizing each writing project
Choosing strong words and synonyms
Developing voice and emotion
Writing sentences of different lengths
Learning to write using 5 paragraphs
Creatively publishing final drafts
Using references
Using a variety of self-editing tools
As I have said before Boo loves to write, in fact she has a book of poems she is working on, and a novel that she pulls out and works on from time to time. Her writing tends to go in fits and starts though so I thought that this program would be a good way to focus on learning some specific skills and writing techniques. The first thing I did was to put together the Fold and Go Grammar Packs. I used file folders that I already had in my supply cupboard. They are really colorful and easy to refer to. Each one includes quick reference bookmarks.
I loved that I received these already printed out. They wouldn't have the same effect in plain white. I would recommend if you purchase the PDF to buy the colored paper and print them out the same way. As you can see by my picture above I added the identifying name on the outside so we could find them. I love these packs and they will be invaluable to us in the future.
The Fold and Go Grammar packs include the following topics:
Lesson 1-Punctuation Marks
Lesson 2- Self-editing
Lesson 3- Nouns
Lesson 4- Pronouns
Lesson 5- Verbs
Lesson 6- Adjectives
Lesson 7- Adverbs
Lesson 8- Prepositions
Lesson 9- Capitalization
Lesson 10- References
This program is not an independent program. It is designed to be used by the parent and child together. Even though Boo works very well independently she also loves having some one on one time with me. (Unless our lesson gets gatecrashed when they hear us having fun.)
I can imagine it being difficult for a child to write a fable or write poetry if they have never read any examples of these types of work. WriteShop has a suggested book list to help you in this area. Luckily Boo had already read most of the books suggested for lessons 2 - 5 and so we were able to jump straight in.
The standard lesson plan given in the teacher guide suggests a three week lesson plan. Using this suggested plan the book would last one year. It allows for two days off a week. There is also a guide for a two week lesson plan this allows for one day off per two weeks. For the period of the review we worked on a two week schedule. Boo could work at a faster pace so we still only needed the 3 day week assigned in the 3 week schedule so we will probably finish the course a lot earlier than suggested.
I found it best to gather the materials listed for the assignment before calling Boo to come for her lesson. In fact, on page 9 of the teacher manual it lists all the supplies needed for the whole book. I liked that this makes it possible to plan ahead and be prepare with the least amount of effort.
I also received a print copy of the Book E Activity Pack, I love the fact again that I didn't have to print all of these pages. Recently I have used a lot of downloadable curriculum and so it made a real treat to have it all ready for me.
Boo even took to coloring it.
We completed lesson 1 as suggested and did all of the suggested pre-reading activities. However, as we progressed through the lessons we made some changes to make it more suitable to her ability. Boo reads at a high school level and although we haven't spent a lot of time on writing skills as such, she found some parts of the program very easy.
Boo found some of the suggested activities a little young. I really wish I had this program a couple of years ago when we first started homeschooling. She would have loved the little 'craft' additions then. For example instead of the suggested way to 'publish' the finished piece (creating little books etc) Boo decided she wanted to publish it on her own blog page, which I thought was an excellent idea. It also helped her practice her typing and computer skills. (I know it's sad when the kids grow up!) Boo's blog is
here
if you are interested in reading any of her posts.
The Writers Notebook Worksheets are optional. However this was something we used during her 'brainstorming' sessions. It also helped her focus more. Boo took the extra writing as a challenge.
When you turn to a new lesson in the teacher manual it breaks down each step for you. This made it easier for me as I knew exactly what I needed to do. It's scripted but not in a way that makes you feel tied to it. I used it as a guide while preparing, and then didn't refer to it much during the actual lesson. However a couple of years ago I would have felt a lot of comfort having it there to fall back on.
Each lesson is broken down into sections. This helped me organize what we did or did not want to cover. Part 1 is Fold-N-Go Grammar and reading log. I didn't keep a reading log with Boo as she reads older longer books. We tend to write down a book as she completes it. However I am going to start a reading log with Little J as he reads lots of little books. The Fold and Go was pretty self explanatory (the instructions are included in the Activity Set 1:1) I reviewed each concept with Boo but she worked through the worksheet by herself. You really can take as much time as necessary with this step as it's important to make sure that each concept is understood.
We are working on Lesson 3 at the moment, which Boo is enjoying because it is all about adventure stories. I love how the pre-writing activities take off some of the pressure found in other programs. Lesson 3 has a 'create a scene' activity. Boo loved this one, in fact everyone joined in.
We haven't finished lesson three yet, but I can't wait to see what Boo writes for her 'Adventure' Fiction final piece.
Although Boo could have handled a harder program. I think this is a fun introduction into formal writing instruction for her. She has felt very successful and it has been a fun experience so far. We will definitely cover each of the lesson topics, albeit at a much faster pace.
If you want to follow
WriteShop
or ask them any questions make sure to follow them on the social media sites links below;
Facebook:
https://www.facebook.com/writeshop
Twitter:
https://www.twitter.com/writeshop
Pinterest:
http://www.pinterest.com/writeshop/boards/
Instagram:
http://instagram.com/kimkautzer
Google+:
https://plus.google.com/+Writeshop/
There are 50+ members of the Schoolhouse review crew using WriteShop at the moment. These reviews cover the levels from K-6 so make sure you check out the link below and see how others used the program.


©2011-2014 Chickensbunniesandhomeschool. All rights reserved. All text, photographs, artwork, and other content may not be reproduced or transmitted in any form without the written consent of the author Chickensbunniesandhomeschool.blogspot.com