Little J is only just starting to read, and so books that he can read to himself are pretty limited. He loves action/adventure type books and so when I was offered the chance to receive the book
Captured on the High Seas
he was really excited as he is an old-fashioned 5 year old at heart and still enjoys a paper book!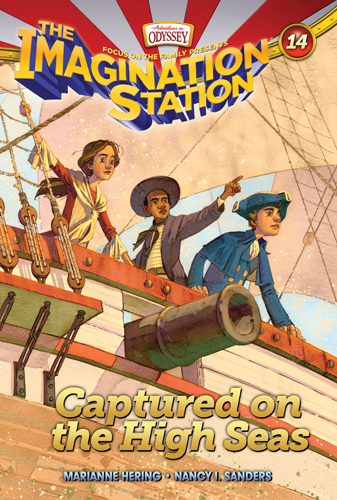 Captured on the High Seas is about 2 time traveling children Patrick and Beth who land in the middle of sea battle between the British and Americans in the Revolutionary War. The book covers a lot of interesting topics. The slave trade, prisoners of war, overcrowded prison ships. The book would be an excellent addition to any study of the Revolutionary War.
The book is aimed to children between the ages of 6 to 9 years old. However if you love reading to your kids then I would recommend this to younger kids if they like to listen to more complex stories. Little J is 5 and LOVED this book. He would have listened to the whole book in one sitting if I had read that long. The story is not written in a babyish way and my husband also enjoyed reading this one!
This book is #14 in the Adventures In Odyssey Imagination Station Series and we are definitely going to be reading some more of these!
I don't want to tell you too much about the story because believe me this is one you will enjoy reading to your kids!
The book is also available in paperback and kindle
here
.
©2011-2014 Chickensbunniesandhomeschool. All rights reserved. All text, photographs, artwork, and other content may not be reproduced or transmitted in any form without the written consent of the author Chickensbunniesandhomeschool.blogspot.com