1. We have had the hottest weather o far this week. Typical since we started back to full school.
2. We snuck in two swim parties. One with friends and one with Grandma and Grandpa.
3. My hanging baskets are dying and I don't really know why. I have watered and fed them. Very sad...
4. We have two
buzzagent
things in the works. My Monopoly from
Hasbro
and a new Robo Dog. The kids are SO excited to get the robotic dog to play with!
5. Going to watch Dirt Track racing tomorrow night. I heard we need to take earplugs. The kids are excited....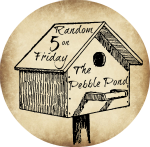 ©2011-2014 Chickensbunniesandhomeschool. All rights reserved. All text, photographs, artwork, and other content may not be reproduced or transmitted in any form without the written consent of the author Chickensbunniesandhomeschool.blogspot.com