1. Today I decided to take the kids to the zoo. I didn't decide last night however, it was at 8:30 this morning. So at 9am we were heading down the road. Reminder to self...Next time check the weather forecast. Did you know not many people go to the zoo WHEN ITS CHUCKING IT DOWN!! Bonus though...we got a really close parking space.
2. The polar bears at our zoo like the rain, and have you ever had fun in a mirror.
3. We had out regular homemade pizza night tonight. Our current favorite - My homemade crust, barbecue sauce, bacon, onion, peppers, chicken, Italian cheese - plus jalapenos (but not on every pizza).
4. The kids and I are working on a review. They are LOVING it! In fact they have been working on about a week worth work every day. Watch this space for the review. I bet you would be surprised to hear it's
GRAMMAR
5. I can't believe it's labor day weekend. Another year has gone by without Heather. It's strange that something can feel like it happened yesterday and yet so long ago at the same time. Labor day 1999, Sept 6 we lost our little angel.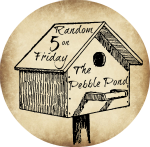 ©2011-2014 Chickensbunniesandhomeschool. All rights reserved. All text, photographs, artwork, and other content may not be reproduced or transmitted in any form without the written consent of the author Chickensbunniesandhomeschool.blogspot.com