1. I gave the kids an extra week off. Although we have still been working on reviews, math, and reading. Our full schedule starts again Monday.
2. Have I ever mentioned my kids like rocks. We are going to look for rocks tomorrow. Stay posted for pictures later in the week.
3. We are coming the end of our lastest television treat. We have been watching
Merlin
. It's getting a bit tense now we are getting to the end. The funny thing is Jam and Boo keep on comparing it to the books they have read of the stories of King Arthur, which of course they LOVE.
4. We have just finished up the last of the English chocolate that my neice brought over when she visited. Little J's favorite is
Milky Bar
5. I am SO excited for the new school year. We have got some fun reviews we are working on. Especially
IEW Fix it Grammar
.
Check out more Random Five over at the
Pebble Pond
.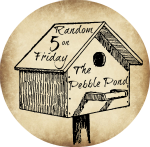 ©2011-2014 Chickensbunniesandhomeschool. All rights reserved. All text, photographs, artwork, and other content may not be reproduced or transmitted in any form without the written consent of the author Chickensbunniesandhomeschool.blogspot.com