1. Today a group of homeschool friends and I took out kids on our first ever group field trip. We went to State Capital, and we had a blast. My friend even arranged it so we could go RIGHT UP THE TOP! I mean literally up to the highest walk around the dome. It was a long climb up but worth it and the kids loved it! Just for the record Boo was stood on a really tall box! They had a really fun dress up area, and museum on one of the floors.
2. The view from the top was amazing!
3. It's going to be a busy weekend. Jam and Boo have their first official USA swim meet tomorrow. We have to leave at 6:30am...I have a feeling it will be a LONG day!
4. Is it wrong to be looking forward to the clocks changing...I can't wait for an extra hour in bed!
5. We have been watching a new TV series called
Our Zoo
it's the story of the start of the
Chester Zoo
in England. If you haven't seen it, and you love British TV.
Check out some more Random Five over at
The Pebble Pond.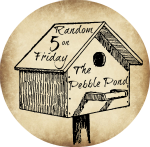 ©2011-2014 Chickensbunniesandhomeschool. All rights reserved. All text, photographs, artwork, and other content may not be reproduced or transmitted in any form without the written consent of the author Chickensbunniesandhomeschool.blogspot.com