1. School has been going really well this week. It's fun to see how well the kids are doing and how much effort they put into their day.
2. Swimteam started this week. The kids were really glad to get back after 7 weeks off. Captain America (or as Daddy calls him - Sharkbait!) passed his swim test and is now an official member of the swim team. His is SO excited - the look on his face when he climbed out of the pool after his 25 yard swim was so amazing. So far he has managed to last all of the 90 minute practice. Seeing how he is listening to his coach and interacting with the other team members is so cute - He is the youngest swimmer on the team (six next month).
3. We spetnt the night at my parents last night. After putting Captain America to bed, the big kids and I stayed up till midnight playing cards with Grandma and Grandpa - Such good times.
4. I took the kids rock-climbing today with my friend who has two boys about Captain America's age. We have been going about two years and it's so cool to see their progress. The last two visits Captain America has really improved. He nearly made it to the top today. He is growing up so fast. They wore their new T Shirts today, don't forget to enter my
giveaway!
5. My allergies are starting back up and I am diffusing my favorite remedy as I type. LLP (Lemon, Lavender, and Peppermint) blend from
Sparknaturals
if you use my code 'chickens' you can get 10% off everything (except the Oil of the Month Club)! However for $15.99 you get a new oil every month. It's such a great deal - I love it! Bergamot this month - mine should be here tomorrow!
Don't forget to pop over to
The Pebble Pond.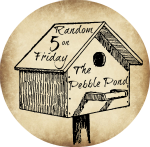 ©2011-2014 Chickensbunniesandhomeschool. All rights reserved. All text, photographs, artwork, and other content may not be reproduced or transmitted in any form without the written consent of the author Chickensbunniesandhomeschool.blogspot.com