It's been a great week. I can't believe it's Thanksgiving next week.
1. Boo turned 12. In our church that means she moves up from the primary (children) to the youth (12-18 year old) It's a big step for her and she's very excited. The girls came around the night before her birthday and put balloons all over our front door.
2. I think I have Christmas organized. Shhhh don't tell the kids.
3. The Review Crew is all over for another year. I have a couple of book reviews that I need to post other than that I am think I am in withdrawals. Roll on December 1st!
4. We normally take the kids out for dinner on their birthday. This year Boo asked if we could take her to the movies instead. I thought that was a great idea - so tonight we are off to the movies! I didn't tell her it actually saves us money. Since I was going to suggest a date night with the hubby to see the same movie.
5. I am sat watching
A Knight's Tale
I think besides
The Princess Bride
it is my favorite movie.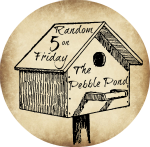 ©2011-2014 Chickensbunniesandhomeschool. All rights reserved. All text, photographs, artwork, and other content may not be reproduced or transmitted in any form without the written consent of the author Chickensbunniesandhomeschool.blogspot.com