1. Wow it's been a fun week. We have had so many things going on and decisions being made and unmade. It's the start of a busy but fun month so I am trying to pace myself.
2. Tomorrow we have our last swim meet before districts and championships. Jam is hoping to knock some time off a couple of his races and Boo is is hoping to qualify for championships in a second race - we will have to wait and see.
3. When Boo makes snacks her favorite are curly apples. Captain is happy to eat them too.
4. I can't believe the temperature changes this week. We have been down to -11 and now the forecast is for 60 degrees tomorrow - crazy.
5. I think I have an addiction to diffusers. I have two, I keep one in the living room and one in my office. I think I need another for my bedroom. If I do buy another I need one that lasts 8-10 hours.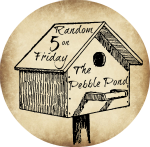 ©2011-2014 Chickensbunniesandhomeschool. All rights reserved. All text, photographs, artwork, and other content may not be reproduced or transmitted in any form without the written consent of the author Chickensbunniesandhomeschool.blogspot.com