1. I made the energy ball things I blogged about last week and the kids LOVE them. I have made them twice this week. They are great for after swim practice.
2. Captain is doing awesome with his reading. We are working with
Progressive Phonics
Captain really loves the books. I must admit they are SO funny. I printed them out and laminated the front and bound them into little books.
3.
Progressive Phonics
has these fun little crosswords and Captain loves them.
4. I have been cutting everyone's hair for a long time. Tonight I gave all the boys a trim. I can't believe how much money I have saved over the last 23 years!
5. We have been doing some free online art classes. You really should check them out
here
is the link to the first Art class over at the
Far From Normal
blog. This last Tuesday was the second class, I got my Mom and Dad doing it with me and they enjoyed it too. I can't wait for week three. It's great to have some focused art time back.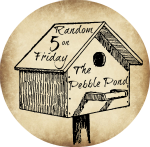 ©2011-2014 Chickensbunniesandhomeschool. All rights reserved. All text, photographs, artwork, and other content may not be reproduced or transmitted in any form without the written consent of the author Chickensbunniesandhomeschool.blogspot.com