1. I made 52 breakfast burritos yesterday to stock up on homemade breakfast food for my kids. It was really easy and warm up beautifully.
12 eggs - Scrambled and cooled (I don't add anything except salt and pepper)
2 packs of breakfast sausage - cooked and cooled - break up well while cooking
Grated Cheese (I used just under 2 - 8oz bags of cheese (any flavor I have used taco and regular)
3 packs of 20 small tortillas. (I managed to fill 52 out of 60)
Wax paper for wrapping
Aluminum foil (optional)
Cook eggs and sausage and put in refrigerator to cool. When everything is cool, I left mine overnight as it was just more convenient. Use a hot plate to warm tortillas then add egg, sausage, and cheese. Wrap in wax paper and then aluminium foil if using.
I place mine on a baking sheet to freeze so they don't get squished together. When frozen and it's time to eat unwrap the aluminum foil and then microwave for about 30-40 seconds. (depending on your microwave).
2. Last weekend Boo swam in our District Championships and came 4th overall in her 100 Fly. This is our first year doing USA swimming and she did awesome.
3. Sunday Boo is swimming in our Championships it's a bigger race and she had to qualify (time) to swim. She is really excited as it's a big race. Hopefully she will enjoy it and not be too nervous.
4. I watched
Unbroken
this week. Wow what a movie.
5. We are reviewing some really good programs at the moment. Captain has been using a program called
Great Parents Academy
he is really excited because all of his hard work so far has earned him a $25 gift certificate to
Toysrus
and since we don't have one near us, we are going tomorrow he's been looking forward to it for a week.
Check out more Random Five over at the
Pebble Pond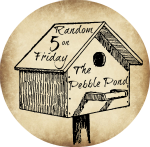 ©2011-2014 Chickensbunniesandhomeschool. All rights reserved. All text, photographs, artwork, and other content may not be reproduced or transmitted in any form without the written consent of the author Chickensbunniesandhomeschool.blogspot.com