Random Five Friday
1. This week has been a little strange weather wise. On Monday we were outside enjoying the 78 degree day. Captain really enjoyed eating his free DQ ice cream in the sun!
2. Tuesday wasn't as nice but at least it wasn't raining. We got together with my sister and her two youngest for a day at the zoo. It was nice to be out, and considering it was spring break somewhere it wasn't too busy.
3. Well after that it's been raining all week...rain is really depressing. I know we need it, but couldn't it just rain at night. I mean that's a good compromise right.
4. My parents are visiting England. My Mom's been under the weather since she arrived there. I am hoping she feels better soon.
5. My in-laws will be here by this time next week. They haven't visited for four years and we haven't seen them since our last trip to England three years ago.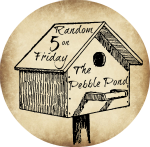 ©2011-2014 Chickensbunniesandhomeschool. All rights reserved. All text, photographs, artwork, and other content may not be reproduced or transmitted in any form without the written consent of the author Chickensbunniesandhomeschool.blogspot.com