1. This week we picked Nana and Grandpa up from the airport for their first visit to the country in four years. We went to England three years ago, but we haven't seen them in person since then - thank goodness for Skype!
2. Yesterday I took Nana and Grandpa on a field trip with us to my FAVORITE Amish shop. It's about 30 minutes from home so I don't go too often, I have been needing to go for a couple of weeks. It was nice to stock up on my home made granola supplies. Nana and Grandpa thought it was interesting too. I took them of a little tour of the Amish homes near the store.
3. Today we went for a walk as the weather was beautiful - and it's forecast for snow tomorrow - UGH
4. My father-in-law doesn't like cheese. My husband works for a company that works a lot with cheese and my fridge is full of it - ironic - not as much as the little part of our pizza for pizza night that will be cheese free :)
5. Hubby has long weekends for the next month (because of his parents visit) - the kids are really excited, except it has thrown me for a loop...I keep thinking tomorrow is Sunday. I nearly missed my Random Five!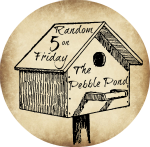 ©2011-2014 Chickensbunniesandhomeschool. All rights reserved. All text, photographs, artwork, and other content may not be reproduced or transmitted in any form without the written consent of the author Chickensbunniesandhomeschool.blogspot.com