1.
Captain's reading today in Stories of Great Americans for little Americans was about Longfellow.
"Lives of great men all remind us
We can make our lives sublime,
And departing, leave behind us
Footprints on the sands of time",
"Footprints, that perhaps another,
Sailing o'er life's solemn Main,
A forlorn and ship-wrecked brother,
Seeing, may take heart again".
"Let us, then, be up and doing,
With a heart for any fate;
Still achieving, still pursuing,
Learn to labor and to wait"
-Longfellow
2. We went on a field trip today with our little coop field trip group. We went to the
Compassion Experience
it was very well done. Everyone has a iPod to listen to the story as you go through.
The kids were really touched by what they saw and heard, even Captain told me all about it afterwards - he went through with his friend and her mom. If you get the chance to see this exhibit you should.
3. We had some exciting news this week. Nana and Grandpa are coming to visit this month. It's been three years since we saw them in person. The kids have their weekly Skype Latin lessons but it's not the same. Everyone is VERY excited.
4. Captain, Boo and Jam have got some new reviews going on at the minute. Captain insists that I read his in a funny voice, Jam is learning about how Greek and help his vocabulary and Boo, well let's just say she sneaks as much time on her's as possible!
5. I am loving my Amazon Prime lately. It's SO handy to be able to order something and it arrive 2 days later - truly awesome!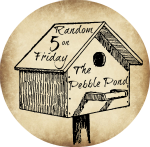 ©2011-2014 Chickensbunniesandhomeschool. All rights reserved. All text, photographs, artwork, and other content may not be reproduced or transmitted in any form without the written consent of the author Chickensbunniesandhomeschool.blogspot.com