1. This week has been great - until last night. We had planned to go to the Zoo today with my sister and her kids as they are on spring break. Until Captain threw up - twice. Luckily he is a star and ALWAYS makes it in the bucket, but still Zoo day cancelled. We woke up this morning to grey/rainy yuck so as it happens he's not that disappointed anymore - especially since we re-scheduled to next week.
2. I made this amazing recipe this week. I found it in a coupon book of all places. We made a couple of additions. However, I can say that everyone loves it. Including my fish hating Jam. I thought I would share - because I'm kind like that!
3. Boo and I are going to the movies tonight to see Cinderella with friends. We don't go to the movies often as we normally wait for DVD so hopefully it will be good!
4. Since Captain was sick yesterday he's having an easy day today - playdoh.
5. We are on count down now for our visitors from England! The kids can't wait till Nana and Grandpa arrive.
Check out more Random Five over at the
Pebble Pond
.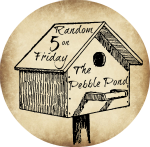 ©2011-2014 Chickensbunniesandhomeschool. All rights reserved. All text, photographs, artwork, and other content may not be reproduced or transmitted in any form without the written consent of the author Chickensbunniesandhomeschool.blogspot.com