Normally all the reviews offered to me are for school related products so I was really excited when I was offered something to review just for me. However, being the Mom that I am I chose something that actually was really suited for Boo to try as well. The company is called
Koru Naturals
and they have lots of natural products including the ones I was asked to review
The Manuka Oil and Manuka Honey Shampoo and Conditioner
and their
Emu Oil
.
I love anything natural and although not crazy about it, prefer to use natural products.
Koru Naturals
is that kind of company selling just these natural kinds of products at really good prices. The company is from New Zealand and uses only natural products and prides itself with no animal testing on any of it's products. The company uses products that have been used for thousands of years, however blended with current technology can be shared with the rest of the world.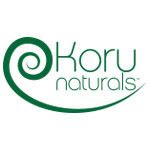 Why the name 'Koru' - (From the website)
Our symbol is the koru, the Maori name given to the newborn, unfurling fern frond that symbolizes new life, growth, strength and peace. It is an integral image in Maori carving and tattoos and an iconic symbol of New Zealand flora.
OK so now you know a little more about the company, good quality natural products, no animal testing, now on to tell you more about what I thought of the actual products I got to use.
Emu Oil
is a really nice product. It smells pleasant and doesn't stay greasy on your skin for too long. It's a traditional Australian Aboriginal oil and it is recognized by the Therapeutic Goods Administration in Australia (TGA). It's to be used externally only and has many uses. I read that some people use it on their face as a moisturizer and I have some extremely dry areas on my face. I tried it for a few days but it just didn't suit my face. However, don't let let that put you off as I have very sensitive skin and it's hard to please. I then though I would try it on my feet. When I was a child my feet were very sore. They used to crack and bleed and my Mom used to have to rub them with awful smelling lotion. It was quite a chore for her, not just because is smelt bad but I also have the worlds worst ticklish feet - honestly. So although they do not crack and bleed like they used to as a child (thanks to my Mom) they are still very dry and scaly. I am very lazy in the winter and neglect them terribly - but I did start rubbing this oil on my feet every night before bed. It made quite a remarkable difference. Also by the time I rubbed it in it was gone...I didn't have to wear socks which was a bonus for me. The oil can also be used for dry hair. I have used it on the kids hair - we swim and spend four days a week in the pool. Their hair gets a little dry especially Captains because he has only started to where a cap. A little of the oil really makes the hair feel better. The only problem was the bottle. I am used to a lot of oils and I have found that the bottle drips a little after popping the lid shut and it caused a little oil mark on the label.
(Lavender, Chamomile, Peppermint and Rosehip Oil)

Obviously I don't need to tell you how I used these, everyone knows how to use shampoo and conditioner. However I am glad that I gave Boo a couple of instructions otherwise she would have used too much of this on the first try as it doesn't foam very much as we have pretty hard water. It washes really well and the conditioner is very light and doesn't leave any residue after rinsing some days we left the conditioner on for 1 minute and sometimes 5 depending how much dry we felt our hair was. I normally wash my hair everyday but after I started using this shampoo I have noticed that I can wash it every other day. Boo on the other hand used to struggle with a dry, flaky scalp. After using this shampoo and conditioner her scalp has really cleaned up. We took this shampoo and conditioner on vacation with us a couple of weeks ago. The first thing I noticed was how much it foamed up at the hotel. The water must have been really soft, it was quite a shock! I love the way my hair looks after I use it. It seems to really help with static. It smells absolutely amazing!

I was impressed with both products. I love that they are natural and safe. They also last a really long time. I must admit I am thinking of banning Boo from using the last of the shampoo and condition, mainly - because I want to keep the rest all to myself.
Others on the crew reviewed other products that look amazing too. You need to click on the link below to read more!
Facebook: https://www.facebook.com/korunaturals
Pinterest: https://www.pinterest.com/korunaturals/



©2011-2014 Chickensbunniesandhomeschool. All rights reserved. All text, photographs, artwork, and other content may not be reproduced or transmitted in any form without the written consent of the author Chickensbunniesandhomeschool.blogspot.com