1. Today we are celebrating cousin birthday twins. I have nieces that were both born today celebrating their birthday. The oldest is turning 17 and the younger turning 9 they are both so special. I am very sad that we can't be with them both today.
2. We have been super sick ALL WEEK and it's not gone yet. Captain started with it on Friday and they gradually over the week we have all been hit. Jam and Boo have been too sick for swim practice which I think is the first time ever since we started USA swimming. Honestly it's awful. Cough, chills, fevers, aches, and pains. Luckily no stomach bug...
3. This week was supposed to be a week off for the kids as we have Nana and Grandpa here visiting from England (Yes they got sick too). However the kids ended up doing some Math and their piano practice and of course lots of reading. We also watched quite a few documentaries - I love Netflix when we are sick.
4. Remember the Emu Oil I reviewed a while back...well I restocked, we love that stuff!!! They even sent me a lip balm to try with my order...except I don't want to open it till I feel better :)
5. I hope we all feel better soon, feeling sick stinks!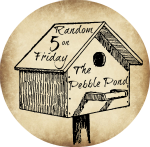 ©2011-2014 Chickensbunniesandhomeschool. All rights reserved. All text, photographs, artwork, and other content may not be reproduced or transmitted in any form without the written consent of the author Chickensbunniesandhomeschool.blogspot.com