1. I can't believe that Nana and Grandpa will have been here a month soon. We are trying to ignore that they are flying home next week.
2. Boo has been working on her
Artistic Pursuits
review a lot lately. In fact she is sat in the garden right now with her box of chalk pastels drawing. She really enjoys this medium.
3. It is starting to feel warm and very spring like. Boo keeps running out with my phone to take a picture of a new flower in the garden!
4. Boo has a new past-time. Babysitting! It's amazing how much she loves it.
5. Jam was a finalist in a competition he applied for with
Knex
. He is in the process of working on a video showing his best trick shot with the new
K-Force Build and Blast
product line. He LOVES it so far!!!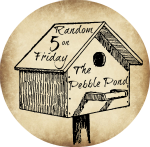 ©2011-2014 Chickensbunniesandhomeschool. All rights reserved. All text, photographs, artwork, and other content may not be reproduced or transmitted in any form without the written consent of the author Chickensbunniesandhomeschool.blogspot.com