1. I love city wide garage sales!
2. Boo made/decorated cupcakes at her church activity this week. They turned out really cute!
3. After having a little break (half work load) while Nana and Grandpa were visiting the kids are back on full schedule , and it feels good.
4. We school year round. I feel that it gives us a lot more flexibility during the year. The older two understand about long summer holidays, they were in public schools long enough to understand. Captain hasn't really known anything other than home school.
5. We made pizzas again for dinner. This time we tried a new recipe. Sausage, bacon, Chorizo, olives, onions, green peppers, pepperoni, fresh tomatoes, jalapenos, cheese (of course). It was delicious!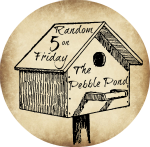 ©2011-2014 Chickensbunniesandhomeschool. All rights reserved. All text, photographs, artwork, and other content may not be reproduced or transmitted in any form without the written consent of the author Chickensbunniesandhomeschool.blogspot.com