1. It's been a crazy week of weather. We have been up to 76 degrees and down to 46.
2. I have a friend who just posted her new book on Amazon called
The Ghosts of Gifford Hall
I haven't bought a book just for me on Amazon for ages. Normally I just purchase books the kids need for school and I just read what I can find for free. However I bought this book to support my friend. I wasn't sure what to expect but WOW I was blown away! It is awesome. I don't like anything too scary, and I am quite hard to please as I love a story to drag me in straight away. This book did just that. Boo and Jam have both read it too and LOVED it! They keep on asking me when book 2 is coming...I told my friend she needs to hurry before my kids drive me crazy. Check out the Facebook page for the book
here.
3. I can't wait to make our Easter nests tomorrow! I love Easter weekend.
4. I love this video and it's perfect for Easter
#BecauseHeLives
click on the link to watch it.
5. I can't believe Nana and Grandpa have been here for over a week! Plus my parents come home from England Monday - I can't wait, I have missed them like crazy!!!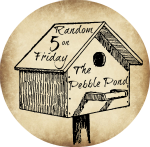 ©2011-2014 Chickensbunniesandhomeschool. All rights reserved. All text, photographs, artwork, and other content may not be reproduced or transmitted in any form without the written consent of the author Chickensbunniesandhomeschool.blogspot.com