1. I found an old video today that we took at State Fair a few years ago of an egg hatching.
2. We filled the pool this week...just waiting for the heat!
3. Jam made it through to a final selection in a video competition. Voting begins Monday - I will share the details via social media - He would appreciate your votes :)
4. Boo's friend moved town this week - Boo is going to miss her like crazy!
5. We got to catch up with some old friends Saturday night at a wedding reception of a friends son. I am starting to feel old kids I taught in
seminary
are starting to get married.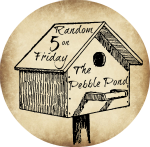 Disclosure of Material Connection: Some of the links in the post above are "affiliate links." This means if you click on the link and purchase the item, I will receive an affiliate commission. Regardless, I only recommend products or services I use personally and believe will add value to my readers. I am disclosing this in accordance with the Federal Trade Commission's 16 CFR, Part 255: "Guides Concerning the Use of Endorsements and Testimonials in Advertising."
©2011-2014 Chickensbunniesandhomeschool. All rights reserved. All text, photographs, artwork, and other content may not be reproduced or transmitted in any form without the written consent of the author Chickensbunniesandhomeschool.blogspot.com