1. This week has been fun. Monday was Memorial Day and it was a nice day off. The kids and hubby got in the pool again, and everyone caught a little sun.
2. On Wednesday my Mom came and stayed, it was another sunny day and the pool temperature rose to above 70. I eventually gave into the kids pleadings and got into the pool. Everyone got a little more sun!
3. Since then it's been raining everyday. I don't think I have seen so much rain since I lived in England. However of course it's nothing like the rain and floods happening in Texas. My heart and prayers go out to the people there.
4. We are nearly at the end of Jam's Knex competition. It's been a long few days!
5. I got a new Kindle Fire this week! I am not quite used to it yet. I used to have a Nexus so it's a little different but so far it seems quite easy to use. Any tips would be appreciated!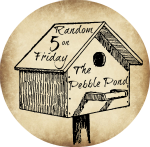 Disclosure of Material Connection: Some of the links in the post above are "affiliate links." This means if you click on the link and purchase the item, I will receive an affiliate commission. Regardless, I only recommend products or services I use personally and believe will add value to my readers. I am disclosing this in accordance with the Federal Trade Commission's 16 CFR, Part 255: "Guides Concerning the Use of Endorsements and Testimonials in Advertising."
©2011-2014 Chickensbunniesandhomeschool. All rights reserved. All text, photographs, artwork, and other content may not be reproduced or transmitted in any form without the written consent of the author Chickensbunniesandhomeschool.blogspot.com