1. My husband has fixed our ice machine!!! You may not understand the excitement behind this statement. However believe me the older kids are SO excited not to have to fill and empty ice cube trays anymore.
2. Jam got contacts today. I can't believe he is growing up so quickly. Boo kept on telling him he looks older without his glasses.
3. Captain memorized his first piano piece this week - he is so proud of himself.
4. Last Saturday Jam and Boo ran a local 5K. Dad was supposed to run with them but he hurt his back and it wasn't quite healed yet so they ran together. Jam got 1st place in the 14-18 age range by default because he was the only one :) but he did great completing it in under 30 minutes. Boo beat him by about a minute :) They had great fun and I was proud of all the training they do.
5. One of Boo's friends is moving to another State. She's really sad and will miss her. She made a really cute picture to give to her. I took this on a trip to the Zoo before we knew she was moving.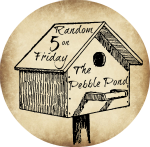 Disclosure of Material Connection: Some of the links in the post above are "affiliate links." This means if you click on the link and purchase the item, I will receive an affiliate commission. Regardless, I only recommend products or services I use personally and believe will add value to my readers. I am disclosing this in accordance with the Federal Trade Commission's 16 CFR, Part 255: "Guides Concerning the Use of Endorsements and Testimonials in Advertising."
©2011-2014 Chickensbunniesandhomeschool. All rights reserved. All text, photographs, artwork, and other content may not be reproduced or transmitted in any form without the written consent of the author Chickensbunniesandhomeschool.blogspot.com