1. Well the biggest thing happening in our house has a lot to do with
Knex
and the competition that Jam entered a few months ago. He made it to the final. If you want to help click on the link above and vote for 'Joshua'. (photo courtesy of Knex)
2. Summer has arrived to the public schools here. My older kids know all about school holidays - however Captain has never been to school so his concept of holidays are very different. He was very excited that we have a long weekend! Basically we do school if Dad is at work. Unless of course we decide to play. The big kids really like this schedule and Captain doesn't know any different so it's all good.
3. Saying that we are planning to do a lot of swimming this summer. The kids of course start summer swim team on Tuesday. However, I am really excited about our new pool pump. We decided to change to a salt water pool. I am not sure how it works as the salt water is changed to chlorine to clean the water etc...but with not chlorine smell or damage to swimsuits. It nicer on skin and hair too. So I'm just waiting for the pool to get warm enough for me. I say 'me' because everyone else here has a wetsuit and they've already been swimming.
4. Captain got
Transitions
he LOVES them. He's been wearing glasses since he was two and really wanted sunglasses. They look really cool.
5. I took Captain to Walmart this week. Batman and Robin were there. It was a fundraiser for Children's Miracle Network.
All in all it's been a fun week :)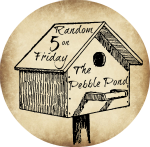 Disclosure of Material Connection: Some of the links in the post above are "affiliate links." This means if you click on the link and purchase the item, I will receive an affiliate commission. Regardless, I only recommend products or services I use personally and believe will add value to my readers. I am disclosing this in accordance with the Federal Trade Commission's 16 CFR, Part 255: "Guides Concerning the Use of Endorsements and Testimonials in Advertising."
©2011-2014 Chickensbunniesandhomeschool. All rights reserved. All text, photographs, artwork, and other content may not be reproduced or transmitted in any form without the written consent of the author Chickensbunniesandhomeschool.blogspot.com