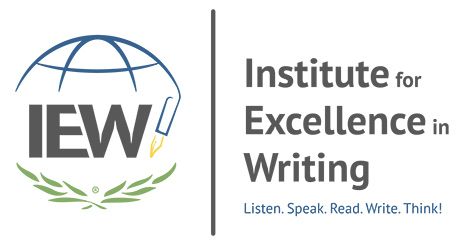 I have never had to teach a child to read before all by myself. I think it's one of the most important things I will ever do in Captain's life. I was recently sent a an awesome program from
The Institute For Excellence in Writing
often referred to as
IEW
for Captain. He was very excited when the box arrived containing
Primary Arts of Reading Complete Package
and
Primary Arts of Writing Complete Package
.
These kits are amazing and I will list all of the items that came with my set.
The Primary Arts of Language : Reading Complete Package includes: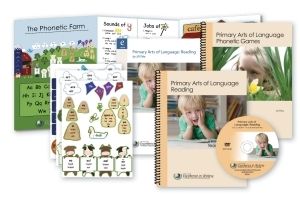 Reading Teacher Manual
Reading DVD - ROM
- This includes a very helpful instructional video from Jill Pike, four MP3 talks (believe me they are worth listening too.) The Student e-book is also found on this making it easy to print out everything you need.
Primary Arts of Language - Phonetic Games
Primary Art of Language - Phonetic Farm - Folder with Stickers
The Primary Arts of Language : Writing Complete Package includes: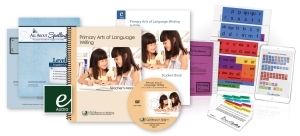 Writing Teachers Manual
Writing DVD - ROM
All About Spelling - Basic Interactive Kit
All About Spelling - Teachers Manual and Student Packet
As you can see from this list you can see why Captain was SO excited to unpack this box.
The first thing that I did was watch all of the video lectures. The first video I watched was by Jill Pike she introduces the programs really well.
The reading program was designed by Anna Ingham she is the author of the book
Blended Sound-Sight System of Learning.
We use a lot of poetry during our regular school day and so I was really happy to see that this program uses poetry. Each of the poems we used during the program are included on the DVD-Rom. Captain loved reading and learning new poems.
Captain has
amblyopia
or lazy eye. He has been in glasses since he was two and it's quite a high
prescription
. I was told if we didn't catch it early enough it could be a cause of reading and learning problems in the future. This has made me a little paranoid about his reading. I know that he knew his letters and sounds and even work his way through some early readers. However, until we started this program he was always hesitant about reading. He is now
insistent that he can read beginner chapter books and has SO much more confidence.
If Captain was in public school he would be just about to enter first grade, so I knew that he reading wasn't behind, but I also wasn't sure how well he could really read. So I started the reading lessons at the very
beginning
. I quickly noticed that he was well advanced of the first lessons, but I was also concerned of skipping something so I contacted the 'chat' on the IEW website to ask their advice. They were extremely helpful and actually backed up my
original
idea of working through each lesson at a faster pace until we hit new material, so that's what we did.
We completed the whole phonetic farm poster. Captain loved this, and it was a great reminder and visual for us to review the sounds of different parts of words. He often gets this out and I can hear him repeating the sounds. We also play some games. Captain really enjoyed coloring the artist palette and feeding the dog his treats! The teachers manual suggests making the games out of file folders and wow I wish I had thought of that earlier - it would have been a handy tip for the pre-school years!
By far though the favorite part of this program for Captain is his daily journal that we starting under the direction of the writing program. He really loves it. I had some of the primary journals in the supply cupboard and he was over the moon when I explain what he was going to do. At first I wrote his sentence by dictation and he copied it and drew a picture. However it didn't take long for him to start asking me 'How do you spell...?' It's been a huge confidence booster for him. Plus a nice memento of our school year. I am excited to see the improvement as time goes on. I think this will definitely be a 'keeper'. The writing program includes a lot of advice and help. It's really important to watch the video lectures that come on the DVD they can solve a lot of problems before they happen. This course starts with printing practice, early sentences story sequence analysis, and even on to writing paragraphs.
I love the way this program blends the importance of phonetics and also sight reading. It seems to be the perfect mix for my little reader. The teacher guide really helps explain the process and thought behind it. It is really easy to go to the lesson plan and follow the steps.
He has recently signed up for the summer reading program at our library and has a huge interest and love of reading right now. In fact he will go to bed 30 minutes early if it means he can read for a while. I haven't seen this enthusiasm with any other program we have tried. For some reason it just 'clicked'.
Spelling is something that we need to work on. I am glad that this kit came with the level one All about Spelling Teacher and Student packet as well as the basic
interactive
kit. The guidelines in the teachers manual says to use a magnetic board to use the letters while the child is learning to spell. We actually used the front of my refrigerator. It was practical and I think Captain will get more out of the letters and practice this way. He often practices spelling words while I am cooking dinner, or practice the lesson during this time. So although that wasn't how the book suggested to use them it works for us. We have our lesson sat at the kitchen table which is next to the refrigerator in the kitchen and so it's also very practical for us.
Captain has a huge imagination and has been read too since he was born...and probably before that. His vocabulary is amazing too. So it was nice to find a program that I can adapt to our needs, that still stretches him and yet gives him the confidence to strike out on his own.
The writing program starts in lesson 32 of the reading program so we incorporated it very quickly in to our program. However, if I was using this with a complete beginning you really get used to one section before the next is introduced. I think it's designed well that way.
We were able to work at such a pace that we are already using the discovery word packs (flashcards) and working through the suggested reading material. There are illustrated readers included in the pack that can be printed off of the Primary arts of Language: Reading DVD-ROM. However, Captain really likes checking books out of the library and it's amazing how his confidence has grown with this program. We are still reviewing the flashcards, in the section called 'discover' however he has found that there are so many easy reader books he feels comfortable with now. He even sat and read his favorite 'Danny and the Dinosaur' set of books to Dad without missing a word!
I have another reader!!!
There were so many awesome IEW items offered to the crew I couldn't possibly list them all, so you really need to click on the link below to read about them!
https://www.facebook.com/excellenceinwriting
https://www.pinterest.com/iewriting
http://vimeo.com/iewtv
https://twitter.com/iew
https://www.youtube.com/user/iewtv
http://iew.com/help-support/blog
https://plus.google.com/+Iewriting/


Disclosure of Material Connection: Some of the links in the post above are "affiliate links." This means if you click on the link and purchase the item, I will receive an affiliate commission. Regardless, I only recommend products or services I use personally and believe will add value to my readers. I am disclosing this in accordance with the Federal Trade Commission's 16 CFR, Part 255: "Guides Concerning the Use of Endorsements and Testimonials in Advertising."
©2011-2014 Chickensbunniesandhomeschool. All rights reserved. All text, photographs, artwork, and other content may not be reproduced or transmitted in any form without the written consent of the author Chickensbunniesandhomeschool.blogspot.com