1. I can't believe the weather this week. We have had our air turned off the majority of the week. It's been unusually cool. Don't get me started on the rain - wow. The one positive is that our grass isn't turning brown yet!
2. Captain has been learning about different kinds of measurements today. He thought it was great fun seeing how many cups different containers could hold. Then we discussed inches and measured and drew lines of different lengths.
3. Swim team has been really cold this week. We even got Captain's wet suit back out.
4. We had a great fourth of July weekend last weekend. We went to see the
The Brett Show
on the fourth. They did a really great show. Garon and Brydon were Captain's favorite. They were so fun. Garon performed a brand-new song. It was amazing! It was called 'Why' I really hope I can hear it again soon!
You can see them on
Facebook
,
Twitter
and
You Tube
.
I only had my phone with me, but I still managed to get a couple of pictures.
5. This week has been weird as Jam has been away again. He's been having a great time. Next week will be strange as Boo will be away. Summer fun for everyone.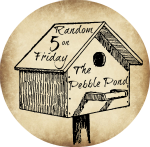 Disclosure of Material Connection: Some of the links in the post above are "affiliate links." This means if you click on the link and purchase the item, I will receive an affiliate commission. Regardless, I only recommend products or services I use personally and believe will add value to my readers. I am disclosing this in accordance with the Federal Trade Commission's 16 CFR, Part 255: "Guides Concerning the Use of Endorsements and Testimonials in Advertising."
©2011-2014 Chickensbunniesandhomeschool. All rights reserved. All text, photographs, artwork, and other content may not be reproduced or transmitted in any form without the written consent of the author Chickensbunniesandhomeschool.blogspot.com