1. Finally it seems to have stopped raining. In fact the weather has got so warm our pool water actually felt warm this afternoon.
2. Although we have been doing school all summer I am getting a new full schedules organized. I can't believe I have a 9th grader, 7th grader and 2nd grader.
3. Have you ever watched the
Young Indiana Jones TV Series
. It's a really fun show and teaches quite a lot of history mixed in. If you haven't seen it you ought to really check it out.
4. Jam is trying to think of his Eagle Scout project. It's his final step as a scout.
5. Has anyone tried the erasable pens...which are the best, are they worth the money??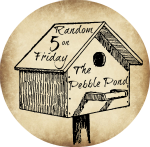 Disclosure of Material Connection: Some of the links in the post above are "affiliate links." This means if you click on the link and purchase the item, I will receive an affiliate commission. Regardless, I only recommend products or services I use personally and believe will add value to my readers. I am disclosing this in accordance with the Federal Trade Commission's 16 CFR, Part 255: "Guides Concerning the Use of Endorsements and Testimonials in Advertising."
©2011-2014 Chickensbunniesandhomeschool. All rights reserved. All text, photographs, artwork, and other content may not be reproduced or transmitted in any form without the written consent of the author Chickensbunniesandhomeschool.blogspot.com