1. I can't believe that it's our second July 4th weekend since becoming U.S. Citizens.
2. The kids had great fun letting off their fireworks tonight.
3. I had to postpone this till Saturday as we took so long lighting the fireworks.
4. Today we had an awesome day at our old home town pool.
5. We re-did a huge family tradition tonight for the fourth. Years ago we used to get together for the fourth and see a free concert and then watch fireworks. Then all hit IHOP after. We got to watch The Brett Family Singers from Branson. They were awesome, I will talk more about that another time.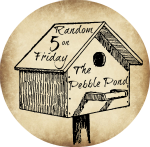 Disclosure of Material Connection: Some of the links in the post above are "affiliate links." This means if you click on the link and purchase the item, I will receive an affiliate commission. Regardless, I only recommend products or services I use personally and believe will add value to my readers. I am disclosing this in accordance with the Federal Trade Commission's 16 CFR, Part 255: "Guides Concerning the Use of Endorsements and Testimonials in Advertising."
©2011-2014 Chickensbunniesandhomeschool. All rights reserved. All text, photographs, artwork, and other content may not be reproduced or transmitted in any form without the written consent of the author Chickensbunniesandhomeschool.blogspot.com