1. This is our last week on our light summer schedule. The public schools here go back next week and Jam starts
seminary
it's a religious class that he will take every school day for the next four years. I can't believe how time has flown. I used to teach the class before Captain was born. In fact I taught for six years. He is starting with the Old Testament.
2. The older kids went away for a couple of days with my sister, her husband and two of her kids. They look like they are having a nice time. Captain, was a little spoiled while he was gone. We had some great one on one time.
3. Captain bought himself a toy from Dollar Tree yesterday, it was a dinosaur egg made from plastic. You had to dig out the dinosaur. He made some cool videos as he enjoyed it SO much.
Part 1...
Part 2...
Part 3...
Part 4...
He had great fun with that $1.
4. I really need to work on my video skills. If anyone knows of a good Android app - let me know.
5. Captain finished his first chapter book this week. In fact he has read 2 this week!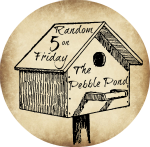 Disclosure of Material Connection: Some of the links in the post above are "affiliate links." This means if you click on the link and purchase the item, I will receive an affiliate commission. Regardless, I only recommend products or services I use personally and believe will add value to my readers. I am disclosing this in accordance with the Federal Trade Commission's 16 CFR, Part 255: "Guides Concerning the Use of Endorsements and Testimonials in Advertising."
©2011-2014 Chickensbunniesandhomeschool. All rights reserved. All text, photographs, artwork, and other content may not be reproduced or transmitted in any form without the written consent of the author Chickensbunniesandhomeschool.blogspot.com