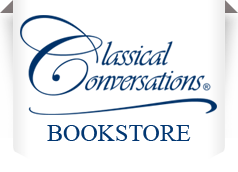 I have a 9th grader. WOW that seems scary, but it's true. I was recently sent a copy of the book
The Conversation by Leigh A Bortins
published by
Classical Conversations
to review. High School can be intimidating and so I love learning about how other people have done it to glean as much advice as I can.
I have had a lot of good friends who have homeschooled the younger years and then put their kids into public school for High School. In fact we nearly did the same thing this year. Homeschooling for us has always been child led. It was Jam and Boo that asked us to try it, and we like it so that's why we are still doing it. However sometime last year Jam thought he might want to go back for High School. I told him it was his decision and to pray and think about it. He finally decided to stay home and so we discussed what we what to get out of the next few years and where he wants to go.
The book
The Conversation
is an excellent resource for parents homeschooling through high school. Although it can also seem a little intimidating. The author obviously has taught her children in a very classical way and even uses the
'Classical Conversations'
program as a support. They are weekly local communities for all three areas Foundations, Essentials, and Challenge. The last area is what she focuses on in her book.
Although l mentioned the author follows a Classical method of education, her ideas and thoughts can help everyone as they homeschool age high school age child. I love reading and so do my children. We lean towards a Charlotte Mason style education. However, we are also very eclectic. If my kids want to use a text book I let them, if we want to complete a lap book we do it, but we also read, narrate, do copy work, and nature study.
The main points that I got from this book are;
Conversations will strengthen your family
Conversations provide accountability for good habits this in turn make learning possible
Conversations can enliven what we learn and therefore creates more interest and also implementation which results in virtuous adults
We all talk to each other, so what a great way to increase knowledge especially in the high school years. Talking about what you learn can increase understanding - sounds like a simple concept right.
The author is amazing. I love what she has done with her sons. I hope that I can implement some of her ideas as I homeschool. So what makes a good homeschool parent. The chapters of her book give us some great ideas.
The book itself is split into two sections.
Part One -
This section is where the writer explains the theory behind a Classical Education. She also explains the breakdown of a Classical Education especially good for those who have never heard about the three stages; Grammar (elementary), Dialectic (Middle), and Rhetoric (High School)
The chapters in this section are;
Chapter 1- Confident Parents
Chapters 2- Rhetoric Defined
Part Two -
This is more of a hands on help/instruction related to homeschool topics. She calls it The Rhetorical Arts
Chapter -3 Reading
Chapter -4 Speech and Debate
Chapter -5 Writing
Chapter -6 Science
Chapter -7 Math
Chapter -8 Government and Economics
Chapter -9 History
Chapter -10 Latin and Foreign Languages
Chapter -11 Fine arts
Chapter -12 A Graduation Conversation
Public speaking is something I think is very important. My kids get quite a bit of practice at this in church. Even Captain has given a talk in front of a group of adults and children. The author has some great advice for speaking eloquently. I won't give you all of her ideas but the topics are;
Invention, Arrangement, Elocution, Memory, and Delivery.
My husband often reminds our children that his mother used to make him deliver all of his talks from memory. Although I haven't that in the past I do make my children become so familiar with their talk they can deliver it eloquently. As they get older they have to prepare a topic and content that fits into the subject matter they have been given. As they have grown their independence in this has increased.
This book is full of a wealth of experience and knowledge. I know I am going to sit and read it again with a notepad and paper.
At the beginning of each chapter she has added a relevant quote, I think of it as a teaser as to what is ahead. There are quotes about each subject and I love them all. I would share them, but maybe you should just read the book.


Disclosure of Material Connection: Some of the links in the post above are "affiliate links." This means if you click on the link and purchase the item, I will receive an affiliate commission. Regardless, I only recommend products or services I use personally and believe will add value to my readers. I am disclosing this in accordance with the Federal Trade Commission's 16 CFR, Part 255: "Guides Concerning the Use of Endorsements and Testimonials in Advertising."
©2011-2014 Chickensbunniesandhomeschool. All rights reserved. All text, photographs, artwork, and other content may not be reproduced or transmitted in any form without the written consent of the author Chickensbunniesandhomeschool.blogspot.com