High School is a scary thing. Science and math scare me the most. I was really interested to learn about an online science curriculum called
Fascinating Education
. Jam was offered a year's subscription to their website to study either
Fascinating Biology
,
Fascinating Chemistry
, and
Fascinating Physics
.

After researching on the website I was surprised to find that the program recommends starting their program with
Fascinating Chemistry
, so that's where we started.
This program has been a huge success. Jam really likes it. He has been working through the lessons and is currently working through lesson 6. He has worked through the program completely by himself since I set him up with the program and finds it really self explanatory.
Jam is used to studying online. His current math and language program are online so it's not something he finds intimidating. However chemistry wasn't the science we thought we would be covering in 9th grade so that was a little intimidating.
To say Jam likes this program would be an understatement. So far he really enjoys it and has understood what is being taught. If you want to read the overview of the course you can click
here.
There are 18 lessons or chapters in the course and Jam has easily been able to complete one lesson per week. There is also chemistry labs available to view on the website and they are linked to the relevant chapter. Each chapter has an end of chapter quiz, with final questions at the end of the course.
After Jam finished chapter one and completed the quiz he made the mistake of not printing his quiz. He quickly realized that the program doesn't save the results. After the student has finished the quiz and clicked 'next' after the last question it is graded automatically. When you get to this screen, there are three options, a back button, a print button, and a button to re-take the quiz.
The courses are laid out very simply with buttons underneath each picture. As you can see below under each lesson there are three buttons - Lesson, Script, and Test. When you click on the lesson button you are taken to the video lesson. Jam says it reminds him of a power-point program with a teachers voice explaining each step. He said that he likes it better than just trying to read a chemistry book, because each step is introduced as it is explained and he doesn't have to try and ignore information that is not relevant. If you click on the 'script' button you can print a copy of the lesson, Jam and I noticed that there are not as many pictures in the script as are in the lesson section. However, it does contain all the text. The 'test' button is very self-explanatory it is the test that the student completes at the end of the lesson material. (Don't forget to print the results!)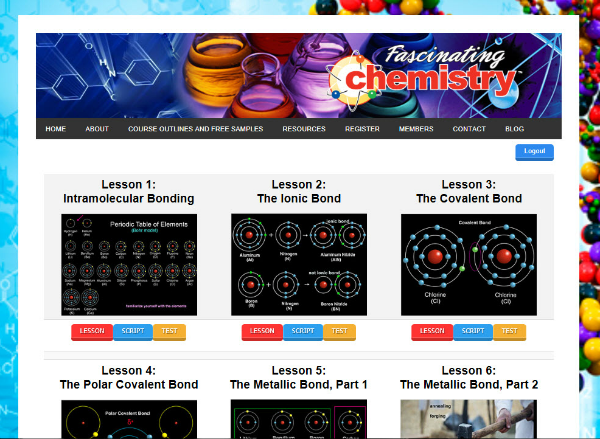 Jam will definitely be finishing this course. He really loves it. He says he even didn't mind going back and re-doing the test for chapter one as I wanted it printed out for our records.
The other course look really interesting too. The program suggested that you start with chemistry, then biology, and then finally physics. Members of the crew review each topic so no matter what high school science you are needing, you can find a member of the crew that review it click on the link below to read more reviews.


Disclosure of Material Connection: Some of the links in the post above are "affiliate links." This means if you click on the link and purchase the item, I will receive an affiliate commission. Regardless, I only recommend products or services I use personally and believe will add value to my readers. I am disclosing this in accordance with the Federal Trade Commission's 16 CFR, Part 255: "Guides Concerning the Use of Endorsements and Testimonials in Advertising."
©2011-2014 Chickensbunniesandhomeschool. All rights reserved. All text, photographs, artwork, and other content may not be reproduced or transmitted in any form without the written consent of the author Chickensbunniesandhomeschool.blogspot.com