Math is not my favorite subject to teach. My husband on the other hand finds it easy. However, he's at work all day and can't help immediately. So my favorite on-line curriculum is Math. It can be quite pricey and most of us home school families are trying to live on one income so pricey options can sometimes be too much for the budget.
Right now you can get a
free three month trial
or a
12 months of unlimited worksheets & tests for $12
. This also includes a curriculum e-book with all the lessons in PDF format. The worksheets are all graded and tracked automatically. (I hate grading math papers). Parents/students can review each assignment after it's completed with a step-by-step solution to find their mistakes and correct them. I know I would find this a huge time-saver and at $12 it's a huge deal for home school parents on a budget.
If you want to try it for free for 3 months you don't even need to enter your credit card information - which I hate doing to access free trials.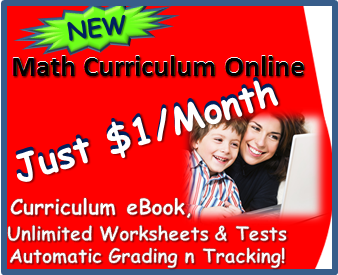 The program creates, assigns, and grades all the assignments (worksheets and tests) and tracks the progress for you. I know this saves me a ton of time each week. The curriculum eBook includes all the lessons that you will need to teach the program in fun, colorful and engaging lessons that will make teaching math easy.
Click
here
if you still have any questions about how this program would work.
I am sure this great offer won't last long.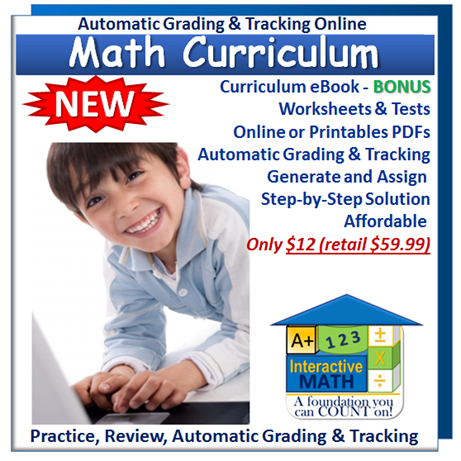 If you are still not convinced to give it a try I have a giveaway for 2 lucky winners. Each winning family will receive their choice of grade level. Enter below and GOOD LUCK!!!
Disclosure of Material Connection: Some of the links in the post above are "affiliate links." This means if you click on the link and purchase the item, I will receive an affiliate commission. Regardless, I only recommend products or services I use personally and believe will add value to my readers. I am disclosing this in accordance with the Federal Trade Commission's 16 CFR, Part 255: "Guides Concerning the Use of Endorsements and Testimonials in Advertising." ©2011-2014 Chickensbunniesandhomeschool. All rights reserved. All text, photographs, artwork, and other content may not be reproduced or transmitted in any form without the written consent of the author Chickensbunniesandhomeschool.blogspot.com