During the course of the year we get to review some really fun school curriculum. However, no and again the kids are thrilled and surprised when I tell them we are reviewing a game. They love reviewing and trying new things, but when it's a fun game everyone wants in as soon as the box arrives. For the last month we have been playing two really fun games from
USAopoly
. The games we were sent to review were
Wonky - The Crazy Cubes Card Game
and
Tapple - Fast Word Fun For The Whole Family
.
These games are perfect for family game night, or anytime really. As soon as they arrived the kids were desperate to play. I knew that there would be no hope of going back to our regular school routine until we have played a few rounds of each game.
I will talk about them in the order that we played them, basically because it was the order my kids grabbed them out of the box.
Wonky
was the first game we played.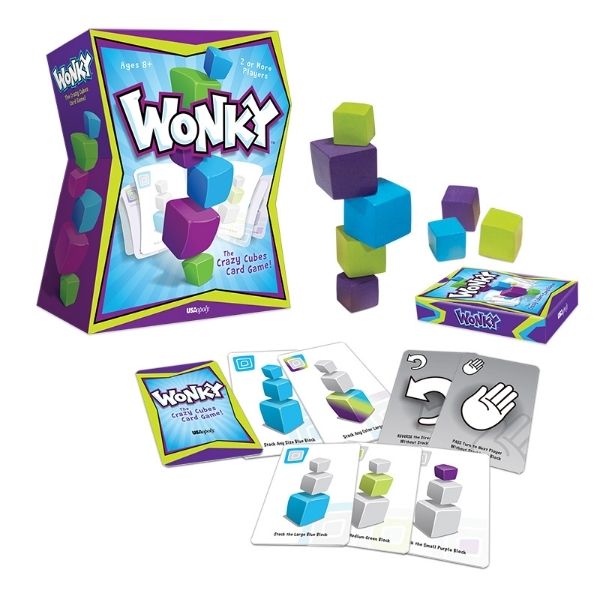 The box says it's a game for players aged 8+ however, Captain (6) had no problem with it. It's a really easy to learn game but seriously fun. We played this first and had quite a few goes.
Contents:
9 Wonky Blocks
54 cards
Storage bag
Rules
How to Play:
The object of the game is to be the first player to play all your cards as you add blocks to the tower!
Every player gets 7 cards at the beginning of the game. The tallest player goes first, on your go you choose a card from your hand to play, if you play a block stacking card, have to add a matching block to the top of the tower. If you don't have a card you can play you keep drawing a card till you can play. There are action cards these mean you can pass or reverse play. There are also combo cards. These cards allow you to add a block to the tower and make the next player draw a card or reverse play. Even the box this box comes in is wonky.
I have realized we are quite competitive and so play can be quite noisy.
Tapple
is a great game too. However it can get VERY noisy.
Contents:
1 Touch Activated Press & Play Letter Eliminator (Tapple Wheel)
36 Category Cards with 144 Categories
How To Play:
The player with the middle initial closet to 'A' goes first. (Quite a problem in my house since both my boys have the middle initial A).
Take a category card from the stack and choose one for the round. (There is a set of easier categories for younger players). To start a round you say what the category is and then tap (not hit - I have to remind my children) the timer button in the center of the 'Tapple' wheel. Each player has 10 seconds to name an answer for the category starting from an available letter on the wheel. As each letter is used it gets harder and harder. You can only use each letter once during the round. You go out on the round for various reasons;
Fail to say a word and hit a letter before the buzzer sounds
Name an answer that doesn't match the category
Press a letter for an unacceptable answer.
When someone goes out the next player TAPS the timer to continue the round. There are extra rules for overtime and winning. It's a really fun game.
So after we played each game for a couple of times we were able to get back to schoolwork. Until Dad came home then nothing could be done (not even dinner) until he promised to play right after. So that it was we did. We have played these games many times this last month. I love both games and there are also some little features I really like.
Wonky has a really cute bag for the blocks. It keeps them together well. As for the Tapple game this is an excellent game for travel or taking to a friends house as the cards store inside the Tapple wheel itself and so there are no loose pieces to loose.
I have really enjoyed spending time with my family playing these games. Which in turn made me spend some time one their website. I have chosen a few other games to add to our collection for Christmas.
Checkout what others thought of these fun games by clicking on the link below.


Twitter
https://twitter.com/USAopoly
Instagram
https://instagram.com/usaopoly/
Facebook
https://www.facebook.com/usaopoly
Pinterest
https://www.pinterest.com/usaopoly/
Disclosure of Material Connection: Some of the links in the post above are "affiliate links." This means if you click on the link and purchase the item, I will receive an affiliate commission. Regardless, I only recommend products or services I use personally and believe will add value to my readers. I am disclosing this in accordance with the Federal Trade Commission's 16 CFR, Part 255: "Guides Concerning the Use of Endorsements and Testimonials in Advertising." ©2011-2014 Chickensbunniesandhomeschool. All rights reserved. All text, photographs, artwork, and other content may not be reproduced or transmitted in any form without the written consent of the author Chickensbunniesandhomeschool.blogspot.com