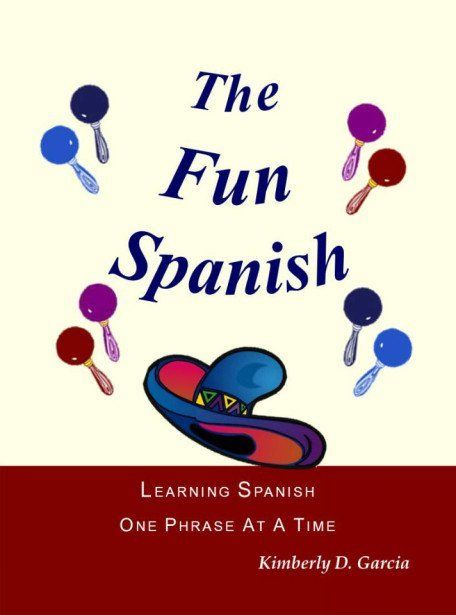 Captain loves Spanish. He has been trying really hard with this fun program literally called
The Fun Spanish
published by
Brookdale House
.
Brookdale House
specializes in homeschool curriculum and has a huge selection. Believe me it took me forever to decide what I wanted to apply for as all of the products offered to the crew looked awesome. I know I normally wait to the end to say this but you really do need to click on the link (after reading this though) so you can check out some of the other cool things that you can find at
Brookdale House
.
The Fun Spanish
is recommend for grades 2 - 5 however, it's a fun way to introduce some sentence skills to older students too. I used this during the review period with Captain and I will continue to do so he has really enjoyed it. However, Boo has decided to add it to her current Spanish studies as she noticed that there were some things that she was learning while looking over Captains work. So literally as I am typing she is hole punching her newly printed 218 pages (thank goodness for that free paper deal I got last year) and putting it in a new three inch binder.
I received a PDF file containing 218 pages
'The Fun Spanish' A Begining Spanish Workbook Level
The program is based on the Charlotte Mason method and is comprised of memorization, copy work, and funny drawings.
Each lesson is divided into multiple sections. There are 17 lessons in all and they are broken up in very workable sections.
There are two suggested schedules the first suggested schedule is for one semester. Every thing is listed in a way to help you finish the program this way. There is also a year long schedule where basically the semester weekly schedule is split to last two weeks per lesson. Captain is very visual so we complete a page a day. Then review the verb conjugation as we go through. Because he is only six we may use this program again in a year or two to make sure he really knows they vocabulary.
The first thing I did was print off all 218 pages. If I don't have things printed and filed straight away I tend to skip if I am having a particularly busy day. This way I could even pop the page out of the big binder and put it in my organizer. This works great for days when we travel for our piano lessons. Captain always has his lesson first and since a family friend teaches them I work with him at their kitchen table.
Captain loves his Spanish program. We have actually worked on this at least four times a week, sometimes more if we don't have a field trip Friday planned.
Captains favorite sections are when he has to copy a sentence, translate it and then draw a matching picture. He loves that they are not serious sentences, in fact sometimes they are crazy.
I received the PDF copy of this curriculum. However, they also sell a
printed book
. The benefit of the e-book is like me you are free to re-print for more than one child. This makes it very cost effective. Although Boo normally works at a 8th grade level she is really excited to work through this program. She will probably complete it in less than one semester.
Stay connected with the company by clicking on the social media link below.
Twitter
Facebook
Pinterest
Google+
There are so many excellent products being reviewed by the crew from
Brookdale House
make sure you click on the link below to read the other reviews.


Disclosure of Material Connection: Some of the links in the post above are "affiliate links." This means if you click on the link and purchase the item, I will receive an affiliate commission. Regardless, I only recommend products or services I use personally and believe will add value to my readers. I am disclosing this in accordance with the Federal Trade Commission's 16 CFR, Part 255: "Guides Concerning the Use of Endorsements and Testimonials in Advertising."
©2011-2014 Chickensbunniesandhomeschool. All rights reserved. All text, photographs, artwork, and other content may not be reproduced or transmitted in any form without the written consent of the author Chickensbunniesandhomeschool.blogspot.com