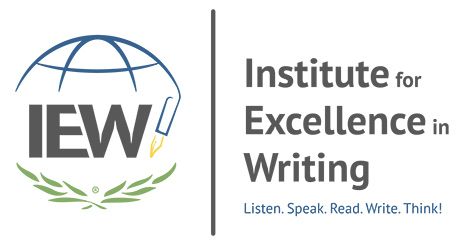 We love Institute For Excellence in Writing and we have been very fortunate to review two things from them this year. We reviewed their complete reading and writing package here. This time we were luckily to be able to review the Phonetic Zoo Spelling Level C [Starter Set]. We completed a placement test to decide which one to order. Level C is the highest level. There is also a Level A and a Level B.
The spelling program it's self is designed for ages 9 and up. The placement test is split into different grades and so you need to start with the appropriate version of the test.
Spelling Placement Test I - Grades 3-5
Spelling Placement Test 2 - Grades 6 and up
Spelling Placement Test 3 - High School and up
Each test has instructions and they are very easy to follow. I would definitely recommend using these tests. They can be used directly from the website or printed off as a PDF.
Jam actually only got one word wrong on the level C placement test and so we decided to start with level C.
We received the starter set which includes
6 audio CDs these come with the MP3 downloads (or you can purchase just the MP3)
Lesson Cards with all three levels of spelling words and jingles
Personal Spelling Cards
Zoo cards
Downloadable Phonetic Zoo Teacher's Notes PDF flie
Link to streaming video - Spelling and the Brain video
The first thing Jam and I did was to watch the video '
Spelling and the Brain
' of course Andrew Pudewa didn't disappoint. Jam watched the video with me as I wanted him to get an overall feeling of the program. We discussed together the fact that spelling is sequential and how important it is the letters to be in the correct order. This was an interesting discussion because we see it with Captain. He can remember all the letters to spell certain words but jumbles them up when he writes (he's 6) and so it was a good visual example for Jam.
The biggest thing I learned is that there is no rush. We are not to rush through this program just to keep on track. There is no point in moving on to the next lesson if all words are not learned. This was a complete 'of course' moment for me, and really helped me kick the attitude that he needed a new list every week. No - what he needs is to spend more time and become proficient in spelling each list before we move on.
Have you heard of the Blended-Sight-Sound program from Mrs Anna Ingham. She taught for 40 years and made huge innovations in her teaching that benefited children. With the help of her students (over 40 years worth) she developed the Blended-Sound-Sight Program of learning, which incorporated a balance of reading, writing, and spelling. She also focused on good discipline, good character, and goal setting opportunities.
How we used it:
The CD pack contains the lessons but Jam preferred to download the MP3 file to his personal player. He likes to be in control of his studies and this program is perfect for that. At first we worked together but I think after the first or second time he was completely self led (except when he asked me to help him review his words).
OK so here's a quick step by step.
The student reads (or you read together) the large lesson card. I used a silver circle clip so mine are all attached together nicely. We discussed the rule and then spell each word aloud.
Jam would then look at the small Zoo card this served as a reminder of the rule and the animals that correspond to it
Jam would listen to the MP3 lesson. (Listen to the introduction the first time after that it's not necessary.)
Jam would take the test and then correct it by listening to the correct spellings on the CD. This is where it can take a little time. As Jam would keep repeating this stage until he got 100% TWICE on the test. At first he would be frustrated as he would spell a word correctly once and then miss it on the next. Then he found it a challenge, I have found that this has really helped him focus on his study skills.
So that's as far as we have got because we haven't reached lesson 5 yet. (We are SO close) but we have been really strict on not moving on until he has got the words down perfectly.
At the end of every five lessons he will fill out a personal spelling words card. The instructions for this are on the CD. However, we haven't done this yet as I mentioned earlier.
At the end of level there is a final exam, it is supposed to include words from each spelling rule. Then using the scoring guide you can see if the student has learned enough to complete the level or whether they should repeat the course. There are 47 lessons in total which of course may take longer than a year. However there are only three levels and so if plan to do all three from 4th to 12th you have plenty of time to fit them in even if it takes longer.
You may wonder why the program prefers that the student uses headphones. The teachers handbook say that if the student uses headphones they will reap the greatest benefits from the program. The sound and experience are closer to the ear and the brain. It reduces distractions or auditory interferences. They also recommend that the student uses pen not pencil. This is something we swapped to a couple of years ago when we started using the IEW writing. You can read their opinion
here.
We have really enjoyed this spelling program. You can keep up with the company by connecting with them online - see the links below.
Facebook
,
Pinterest
,
Vimeo
,
Twitter
,
YouTube
,
Blog
,
Google +
, and
Instragram
.
There are lots of other items from
The Institute of Excellence in Writing
being reviewed. Make sure you click below to read them all!


Disclosure of Material Connection: Some of the links in the post above are "affiliate links." This means if you click on the link and purchase the item, I will receive an affiliate commission. Regardless, I only recommend products or services I use personally and believe will add value to my readers. I am disclosing this in accordance with the Federal Trade Commission's 16 CFR, Part 255: "Guides Concerning the Use of Endorsements and Testimonials in Advertising."
©2011-2015 Chickensbunniesandhomeschool. All rights reserved. All text, photographs, artwork, and other content may not be reproduced or transmitted in any form without the written consent of the author Chickensbunniesandhomeschool.blogspot.com