Spanish is such a wonderful skill to have. I really wish I could speak it! My kids really would love to speak it fluently. Last year we used
Middlebury Interactive Languages
for Captain. This year when it was offered us for review again Jam really wanted to do
High School Spanish I
so although Captain was a little sad we decided to let his try it out.
To say Jam has been enjoying this course is an understatement. In fact as I am writing this I can hear the computer speaking Spanish downstairs in the school room.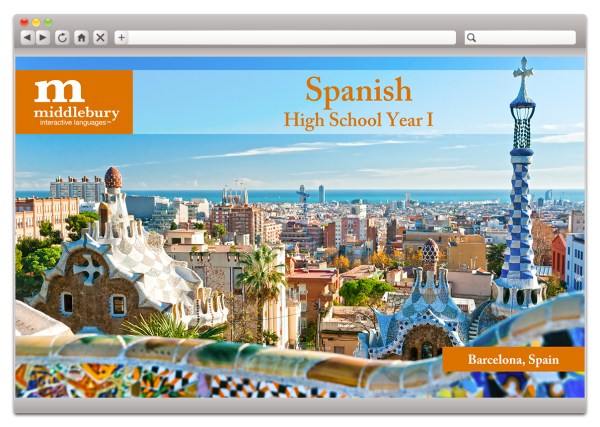 Middlebury Interactive offers quite a few languages, with a lot of different options being reviewed by the crew this year. However, we decided a few years ago that Spanish and Latin were going to be our focus. Since Nana teaches Latin via Skype we were on the hunt for High School Spanish when this review came along.
Having experienced the younger grade last year (You can read that review
here
) we were really excited to try the High School program.
They provide two options for students. We are using the 'without teacher' option and they also have a program where teacher instruction is included. The main difference comes with graded assignments but as the parent you have the option of seeing the homework and giving a grade for your records which is really convenient.
As a home-school mom there are two subjects that make me nervous (well three if you count Latin but Nana has that one covered) Math and Spanish. My husband can help with Math, but neither of us know Spanish. So having an interactive program like this in invaluable.
Jam has been able to work through his program completely independently which is an excellent bonus. He loves being able to set his own schedule and so it is great that he doesn't have to wait for me.
Click
here
to see a brief overview video of the High School Spanish Course.
Unlike the cartoon filled program that Captain used last year the High School course is very age appropriate.
When Jam signs into the program the first thing he does is go to the menu bar on the right hand side.
The grade book is a great way for me to pop in and check how he's been coping with the quizzes and what his scores are.
This is a snip of Jam's first few tests and quizzes. The chart makes grading for me really easy.
Each unit is split into 5 lessons. Most weeks Jam completes a lesson a day, unless we are away on a field trip or something. He found that cheaper headsets don't work as well for the interactive speaking so always waits until he can borrow my nice USB headphones and they seem to work well.
After the first 8 lessons there is a midterm and then a final at week 18. However, as you can see from the above picture there are plenty of interactive tests, journals, and quizzes to monitor progress up to then. The course (without teacher) is self paced so although there are 36 units with 5 lessons in each that would equate to a full year you could if motivated complete the program in less time.
Jam and I both love this course, he is getting really motivated. He really enjoys the lesson and we will continue using it now the review period is over.
Twitter
https://twitter.com/MiddInteractive
Instagram
https://instagram.com/languageacademy/
Facebook
https://www.facebook.com/pages/Middlebury-Interactive-Languages/141015515949753
Pinterest
https://www.pinterest.com/middinteractive/
Google +
https://plus.google.com/b/110371351490550861545/110371351490550861545/posts
You really need to check out other reviews as other crew members have been studying German, French, and Chinese. Click on the link below to check them out!


Disclosure of Material Connection: Some of the links in the post above are "affiliate links." This means if you click on the link and purchase the item, I will receive an affiliate commission. Regardless, I only recommend products or services I use personally and believe will add value to my readers. I am disclosing this in accordance with the Federal Trade Commission's 16 CFR, Part 255: "Guides Concerning the Use of Endorsements and Testimonials in Advertising." ©2011-2014 Chickensbunniesandhomeschool. All rights reserved. All text, photographs, artwork, and other content may not be reproduced or transmitted in any form without the written consent of the author Chickensbunniesandhomeschool.blogspot.com