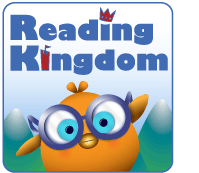 Teaching your child to read is something that every parent wants to do. This review is not just focused to home-school parents but anyone with a young child who is learning to read and spell. Captain was given a year subscription to
Reading Kingdom Online
.
Reading Kingdom teaches; Phonics, Sequencing, Writing, Meaning, Grammar, and Comprehension. Captain has been working on this nearly everyday, sometimes working on more than one lesson. In fact the program tells you the average Captain has been working on a average of 4 days a week. I don't think this takes into account if he does multiple lessons on one day.
The program is designed for children aged 4-10 and teaches them how to read and write to a third grade level.
Captain reads really well, in fact quite a bit about grade level and so I was a little surprised when he was placed lower in the program than I thought he would. The placement test is supposed to be done without help - to get an accurate placement and so I emailed the company and asked if they could reset it because I wasn't in the room when he did it and I was concerned. They did and I sat next to him this time but still didn't help in anyway. He did test slightly higher but after reviewing the program guidelines again, I realized that Captain can read a lot better than he can write, which caused the lower placement in the program. The program works on both reading and writing together and builds the child in both ways at the same time.
The teaching activities are organized in such a way that the Captain is learning to read and write new words, and learning to write the words he already knows - Brilliant right!
This graphic helps explain it a little better. You can read more about how the program customizes
here.
Reading Kingdom has information on the following levels;
Preschool Reading
Kindergarten
First Grade
Second Grade
Third Grade
They also focus on
Reading Strategies for Struggling Readers
.
The Reading Kingdom is based on a unique, patented system of education that was developed by Dr. Marion Blank, the Director of the Light on Learning Institute at Columbia University. You can see some sample lessons
here.
Captain has complete control over this program. He knows he is required to complete at least one lesson 4 days a week. I say that to accommodate a schedule that requires us to leave the house for piano lessons, swim team practice, swim meets, and just life in general. Although I don't give him a maximum time limit, he knows he is required to do at least one lesson. He has his own laptop and I gave him a short cut on his desktop, saved the username and password and he is independent. However, I can log on to the program on my computer to check on his progress any time. You can also download reports in excel format or request weekly email updates.
This program is very easy to use. Captain seems to like it and it is helping his reading, writing, and spelling skills. It is fun enough that he doesn't mind doing it, but serious enough that I can tell he's working. We will definitely keep using this program.
Others from the crew reviewed
ASDReading.com
that teaches students with Autism Spectrum Disorder to read, write and comprehend. Check on the link below to read more reviews.
https://www.facebook.com/readingkingdom
https://twitter.com/readingkingdom
https://www.pinterest.com/readingkingdom/


Disclosure of Material Connection: Some of the links in the post above are "affiliate links." This means if you click on the link and purchase the item, I will receive an affiliate commission. Regardless, I only recommend products or services I use personally and believe will add value to my readers. I am disclosing this in accordance with the Federal Trade Commission's 16 CFR, Part 255: "Guides Concerning the Use of Endorsements and Testimonials in Advertising." ©2011-2014 Chickensbunniesandhomeschool. All rights reserved. All text, photographs, artwork, and other content may not be reproduced or transmitted in any form without the written consent of the author Chickensbunniesandhomeschool.blogspot.com