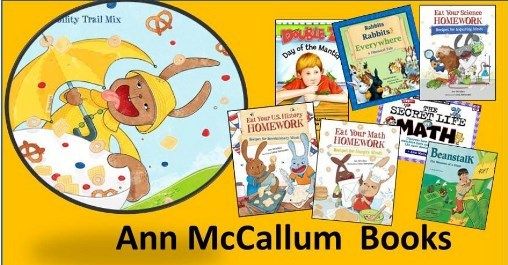 We love books and so when I was offered one of
Ann McCallum Books
to review I thought it would be fun. All of the kids love new books but since Captain has just really started reading more and more I decided to choose a title leaning towards him. We were offered the book
Rabbits Rabbits Everywhere A Fibonacci Tale
.
Who is Ann McCallum
Ann McCallum is a math teacher and an award-winning author of children's books there are five being reviewed by the crew.
Eat Your Math Homework
Eat Your Science Homework
Eat Your U.S. History Homework
Rabbits Rabbits Everywhere
(This is the one we received).
Beanstalk:The Measure of a Giant (A Math Adventure)
The book we read is a fun story about rabbits. Well that's what Boo and Captain thought the first time Boo read it to him. She loves reading to Captain and this wasn't an exception. However, this is a story about a little more than multiplying rabbits. It's actually about the math concept Fibonacci told in a 'Pied Piper' fashion.
I will try to summarize the story without giving too much away. The story is set in a small town called Chee the home of the Pied Piper. The towns people give a portion of their crops every week to a wizard who lives on the hill just out side the town. They do this because they believe that he is responsible for their good fortune. The Pied Piper doesn't want to give anymore food to the wizard and so started to hide the food that was normally given to the wizard. The wizard decides to punish the town and especially the Pied Piper for lying to him this ends up with a problem with multiplying rabbits that eat all the food in the town. A young girl figures out how to stop the wizards spell by solving the puzzle and learning about the Fibonacci sequence.
What is the Fibonacci Sequence?
It where you find the next number in a sequence bu adding up the two numbers before it. Simple as that. The beginning of the list of numbers is written as follows;
0,1,1,2,3,5,8,13,21,34...
Leaving math aside the pictures in the book are really cute. It's a small paperback book but very well written. The last page of the book talks more about the Fibonacci sequence and introduces ways that this sequence shows up in nature eg; flowers, fruit, spirals on plants, and fingers.
Very interesting well written book. I can't wait to see what the other reviewers thought about the other books.


Disclosure of Material Connection: Some of the links in the post above are "affiliate links." This means if you click on the link and purchase the item, I will receive an affiliate commission. Regardless, I only recommend products or services I use personally and believe will add value to my readers. I am disclosing this in accordance with the Federal Trade Commission's 16 CFR, Part 255: "Guides Concerning the Use of Endorsements and Testimonials in Advertising." ©2011-2014 Chickensbunniesandhomeschool. All rights reserved. All text, photographs, artwork, and other content may not be reproduced or transmitted in any form without the written consent of the author Chickensbunniesandhomeschool.blogspot.com