Jam has added a new
High School Writing Program
to our summer schedule from
Writing with Sharon Watson
. Jam has been working through
The Power in Your Hands:Writing Nonfiction in High School, 2nd Edition.
Summer has been a great time to focus on some of the subjects that are sometimes neglected during the regular busy school year. Jam has worked through a literature course (another Sharon Watson one) during our last school year and so we decided this review was the perfect time to focus a little on non-fiction writing. The curriculum is designed for grades 9-12 and since Jam has just finished 9th grade we decided to get a head start on his 10th grade English.
Jam is very self motivated and I give him his schedules in weekly blocks. This way he can plan his time and work more or less on certain days depending on his schedule. This program has been perfect for this schedule. Jam has been able to work completely at his own pace each week and is doing great at working on prioritizing. Since his school work schedule is lighter it's been easy to balance his summer chores, summer league swimming, Eagle Scout projects and other activities with his school work.
We received the e-book version of this program. The student book alone is 400+ pages so Jam luckily has his own laptop. I didn't print off the whole book. He worked from the online version using a notebook and just printed the necessary pages as he went.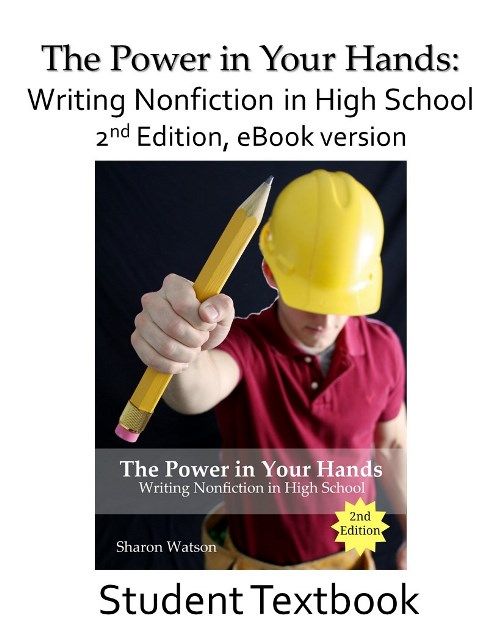 This curriculum is broken down into seven sections. Each one teaching skills that build on each other.
Part One - Before You Write
This section includes chapter one and two. It really helps the student focus on preparation. Right at the beginning of chapter one there is a quote that sums Jam up perfectly;
In fact as soon as Jam saw it he laughed and said 'That is SO me!'.
Part Two - Persuasion
This section covers chapters three to eight. I'm not going to cover all the details found in these chapters the title of the section explains the types of writing instruction covered.
Part Three - Proofreading
This section covers two chapters and is full to the brim of interesting and well written information to help proof-read essays.
Part Four - Expositions
This section covers chapters eleven through nineteen. This covers so much more material it's quite amazing. The topics covered range from writing letters and emails, compare and contrast, dialog, and a 'Teeny-Tiny, Minuscule Punctuation Lesson' (which we found very handy!)
Part Five - Description
This section is just one chapter long but really covers a lot of material.
Part Six - Narration
This section is quite small but is still broken down into three chapters to make it easier to focus on the individual sections; Testimony, Interview Narrative, and Personal Narrative.
Part Seven - Reference
This section is amazing and I printed this section out for Jam to keep. It's chock full of helpful tips and useful things. No matter what you are writing there are tips in here to help.
When I asked Jam what he liked most about this program he said that the way it is written is great. He loves that it feels like Sharon Watson is talking directly to him. He can imagine her speaking and it includes fun facts and jokes. He really enjoyed the quotes at the beginning of chapter. Especially the first one I included earlier. Jam has been working on his Eagle Project which has included writing letters. He found this section of the course particularity helpful. I of course enjoyed having Sharon Watson backing me up in everything that I had previously taught him about writing letters when he had to send one last year to our State Representative for a merit badge.
We also received the Teacher's Guide. I didn't 'teach' Jam while he did his assignments. The student text is written in such a way that this isn't necessary. However, the essays and writing assignments Jam will complete and has completed need grading. The Teacher's Guide does an excellent job of explaining and helping me through the grading process. It tells you exactly what to look for and and how to proceed.
This has definitely won it's place into the 'We are going to complete this course' place on Jam's schedule!
Since other members of the crew were reviewing
21 Grading Grid for Popular High-School Essays and the Position Paper
make sure you click on the link below to read more reviews.
Plus check out Sharon Watson on
Facebook
.


Disclosure of Material Connection: Some of the links in the post above are "affiliate links." This means if you click on the link and purchase the item, I will receive an affiliate commission. Regardless, I only recommend products or services I use personally and believe will add value to my readers. I am disclosing this in accordance with the Federal Trade Commission's 16 CFR, Part 255: "Guides Concerning the Use of Endorsements and Testimonials in Advertising." ©2011-2016 Chickensbunniesandhomeschool. All rights reserved. All text, photographs, artwork, and other content may not be reproduced or transmitted in any form without the written consent of the author Chickensbunniesandhomeschool.blogspot.com