Boo asked me a few months ago about learning sentence diagramming. Although I teach English as a second language and have a pretty good understanding of grammar I hate diagramming sentences. So I actually distracted her and hoped she would forget about for a while. Of course I'm a member of the Homeschool Review Crew and what should pop up on our review list
Sentence Diagramming Beginning
for grades 3-12+ by
The Critical Thinking Co.
It was perfect timing and she was very excited. Yes, you read that right - excited for grammar!
We have used products from Critical Thinking Co before and have always been impressed with their quality and ease of use. So I was hoping that they could make diagramming understandable too.
The Critical Thinking Co.™
has been around since 1958 and has a great selection of award winning products. All of their subjects whether it be reading, math, science, writing, or history contain some aspect of critical thinking. They believe in teaching children to think for themselves rather than just learn facts. I love this thinking!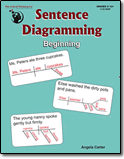 There are three books available beginning, level 1, and level 2. I was glad that we were able to start with level 1. The books are written for all grades (over 3rd) and Boo found it very easy to understand. The book is written by Angela Carter who was teaching diagramming to elementary children and couldn't find quality resources that explained diagramming in a logical way. She found herself making up her own sentences and planning her own lessons. So she decided to write them down and share them! I am SO glad she did.
The book is broken down into 12 lessons and ends with a review. The answers are conveniently found in the back of the book but each page is perforated for easy removal. So you could tear out each page and give to your child or tear out the answers and store them separately if you child would rather work out of the booklet.
Each lesson build upon each other gradually getting harder;
Lesson 1 - Simple Subject and Main Verb
Lesson 2 - Direct Object
Lesson 3 - Adjectives
Lesson 4 - Adverbs Modifying Verbs
Lesson 5 - Predicate Adjectives
Lesson 6 - Predicate Nouns
Lesson 7 - Prepositional Phrases (Adjectival)
Lesson 8 - Prepositional Phrases (Adverbial)
Lesson 9 - Compound Subjects
Lesson 10 - Compound Predicates
Lesson 11 - Compound Direct Objects
Lesson 12 - Compound Predicate Adjectives and Nouns
Review - (5 pages)
At the begining of each lesson there is a little grammar lesson. It explains the concept and introduces how to diagram that particular grammar point. As I said each lesson builds on the one before allowing for a deeper understanding. The student then looks at a couple of sentences that have been diagrammed wrong. The student has to find the mistake and correct each sentence. Then the student is given some sentences and they have to diagram them. After that the student writes their own sentences and then diagram them. Each lesson follows the same format but adds a new grammar topic as shown in the list above.
When I asked Boo what she thought of it she was very positive. She has tried a different diagramming book before that she didn't find as clear. She says that the instructions and lesson is clear. She has been working dilligently through the book and says she intends to finish it.
There are a lot of other programs and books being reviewed by the crew. I would recommend you checking them out by reading the reviews on the link below.
Alphabet Song Game - software
Letter sounds Song and Game Software
Vowel Sounds Song and Game software
Fun-Time Phonics
You can learn more about these programs
here
and
here
.
Some other reviewers were using their
Language Smarts Level E
book.
There are so many different products available so check out the company on
Facebook
,
Google +
and
Pinterest
.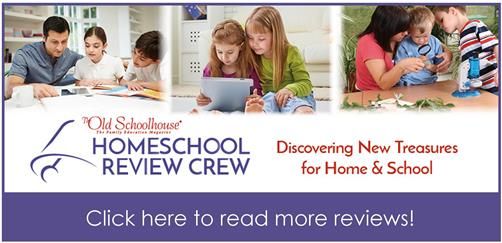 Disclosure of Material Connection: Some of the links in the post above are "affiliate links." This means if you click on the link and purchase the item, I will receive an affiliate commission. Regardless, I only recommend products or services I use personally and believe will add value to my readers. I am disclosing this in accordance with the Federal Trade Commission's 16 CFR, Part 255: "Guides Concerning the Use of Endorsements and Testimonials in Advertising." ©2011-2017 Chickensbunniesandhomeschool. All rights reserved. All text, photographs, artwork, and other content may not be reproduced or transmitted in any form without the written consent of the author Chickensbunniesandhomeschool.blogspot.com