I really love being able to offer my children a mixture of education styles. Although we are not exclusively classical I have used
Memoria Press
for Latin and other studies in the past. I was really excited to receive their
First Form Greek Complete Set
to review.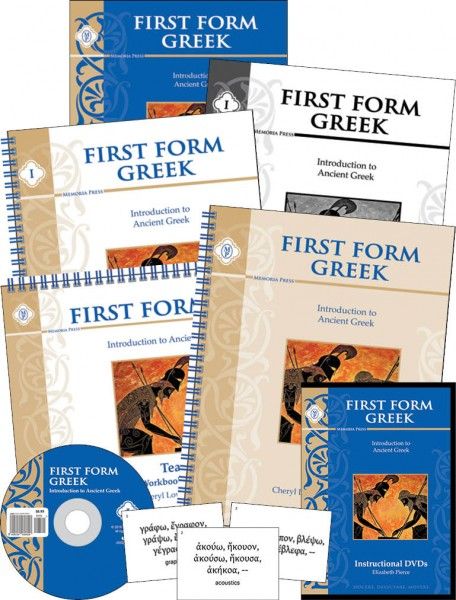 Captain is using the First Form Latin series and really likes it. Boo was ecstatic when she heard that we were being sent this course for her to start Greek. She has studied Latin for a few years and felt ready for the challenge.
I received;
Teacher Key
- This gives all the answers to the student workbook. They are laid out in the same way as the student text - just smaller so it's really easy to follow. It makes grading super easy/
Teacher Manual
- This contains lesson overviews, games and review activities to use with the student and a really simple to follow plan for each day. There are even little check boxes that can be used to mark off a assignment when your student has completed it.
Student Workbook
- This book is thicker than all the other books and contains all worksheets etc... for the student to complete. Each unit is broken down into five lessons so you can complete a unit in a week if used daily. At the end of each 5 lessons there is a unit review test.
Each lesson has a variety of the following topics;
Word Study and Grammar
Greek Saying
Vocabulary
Cognates
Conjuations
Declensions
Form Drills
Translations
Student Text
- All of the information that the student needs to complete the assignments in the workbook are found in this text. Including information about grammar forms and lessons, vocabulary, and elementary syntax as well as a Greek saying.
First Form Greek DVD
- with lessons 1-26 Elizabeth Pierce explains the contents of each lesson and really helps the child understand the topics covered in the lesson.
First Form Greek Instructional DVD (5 discs of 8 hours of instruction - 10-20 minutes of instruction)
The Instructional DVDs are in the same format as the Latin DVDs. They include oral drills and lots of online examples and drills to help the student learn the new vocabulary.
First Form Greek CD
- This CD helps with pronunciation. The student can listen to this during the week to help with vocabulary, Greek sayings, and Grammar forms.
After a few years of Spanish and Latin Boo was very surprised how hard Greek was.
The first lesson in Unit 1 covers the Greek Alphabet. It took Boo quite a while to go over the Greek alphabet. The first lesson encourages the student to learn by heart the upper and lower case letters, the English name of the letter, the sound symbol, and the sound word. Memoria Press actually list their course
The Greek Alphabet
as a prerequisite for this course as well as a couple of years of Latin. Like I mentioned earlier Boo has studied Latin for about four years and she definitely recommends taking the extra time to use the Greek Alphabet book first! We spent a lot of time going through the first lesson. However, with hindsight I think it would just have been easier to do the Alphabet course.
The good thing about the language courses produced by Memoria Press is that they are designed for parents to use with or without prior knowledge of the language. If you take the time to use the teacher guide and teacher key you can teach your child Greek. In fact you will be surprised how quickly you can pick it up yourself! Now although all the information is there in the teacher manuals there is a reason the teacher manuals are there. Boo is seriously self motivated and a lot of her work is done by herself. This course is not really like that. However, if you pace it right and work through the information then it can be done. I would recommend making sure you work alongside your child with this course. Another great way to do this would be in a group. Maybe a small home school coop. I know Boo likes doing things in a group, especially languages.
Boo didn't get as far as she thought through these lessons but she really enjoys the challenge. I would recommend allowing your student to set the pace, especially if you choose not to work through the alphabet book first.
We have really enjoyed dabbling our toes in Greek. Boo really likes that with Memoria Press she knows exactly what is expected of her. The lessons are broken into days and the instructions are clear and easy to follow. She also loves the DVD lessons. She often watches them more than once. It leads through all the lesson material and of course because it's a DVD it can be repeated as often as needed. Unlike me it has endless patience!
Connect with Memoria Press on
Facebook
,
Instagram
,
Twitter
, and
Pinterest
We love Memoria Press here and the crew have all reviewed some excellent programs. Some of them have already made it to my wish list! So make sure you check out the other reviews by clicking on the link below.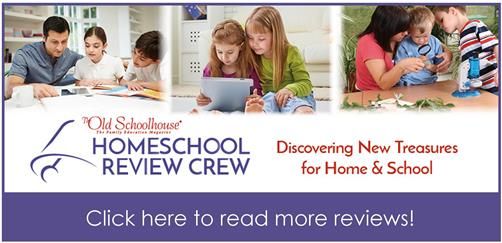 Disclosure of Material Connection: Some of the links in the post above are "affiliate links." This means if you click on the link and purchase the item, I will receive an affiliate commission. Regardless, I only recommend products or services I use personally and believe will add value to my readers. I am disclosing this in accordance with the Federal Trade Commission's 16 CFR, Part 255: "Guides Concerning the Use of Endorsements and Testimonials in Advertising." ©2011-2017 Chickensbunniesandhomeschool. All rights reserved. All text, photographs, artwork, and other content may not be reproduced or transmitted in any form without the written consent of the author Chickensbunniesandhomeschool.blogspot.com