My daughter has been really enjoying her
ArtAchieve
lessons using the E
ntire Level VI
. We have used Level III in the past and Boo really loved it. So she was really excited to be able to work on some of the projects from level VI.
Boo was able to have access to all of the projects in this level and she really had great fun trying out new techniques. Each lesson can be watched as a video lesson online or as a PDF lesson if you want to do it that way. Boo preferred watching the video.
The lessons that are available in Level VI can either be purchased individually or as a complete bundle. The Bundle purchase saves about 25% off the individual prices.
The lessons available in level VI are;
The Ukrainian Face with Hidden Surprises
The Chinese Horse
The Albatross and the Galleon Ship
The Hawaiian Heliconia
The Bangladesh Monster
Draw like an Ancient Egyptian
The Convent in L'viv: shading angular objects
The Stained Glass Nativity Window
The Rooftops of Zagreb
Drawing People with Degas
When you purchase the whole level you can use any of the levels numerous times. You are not limited to one child. This is a really good deal and one that I know my older son is excited to use during the summer. He doesn't have enough time at the moment to work on these projects but I know that he wants too.
Boo's favorite project this time (and she hasn't finished them all yet) was '
The Albatross and the Galleon Ship
.
She really liked the look of this project and wanted to do it night and day until it was completed. In the write up of the project the teacher estimates 90 minutes to complete this project. If you or your child can complete it in that time then I applaud you. However, Boo took much longer. It may have just been her perfectionist personality but she definitely spend two or three afternoons on this project. However, she spent the same amount of time on her others too, but this is our favorite. Boo did draw the ship etc free hand. However she did so with pencil and then went over the top with permanent marker. She was very impressed how in the video the instructor and freehand the drawing using a permanent marker!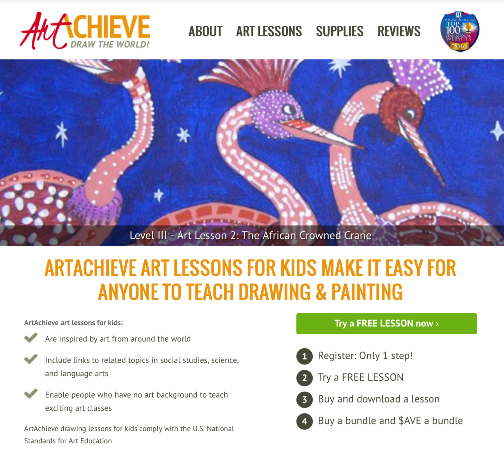 While Boo was working on these projects Captain was really jealous. He wanted to know why he didn't have his own level to work on. So that's when we utilized the free sample lessons. Each level offers a free lesson. With Captain I decided to let him work on level 1. Level 1 has quite a few free lessons. The first ones talk about shading and general topics. However lesson 2 is an actual project -
The Czech Cat
. Oh my word, he loved this. He loved the lesson via video and really soaked in all the instructions. It was a huge hit and I think I will be purchasing the level 1 for him.
Each lesson has some cross-curriculum advice so that you can tie-in other subjects to the art lesson. For example the Czech Cat has this information in the lesson each of the words in red are links to more information on the Internet so you don't even have to go looking for it!
Since that was an example of level 1 I wanted to share the cross-curriculum examples for what Boo was working on -
As you can tell as the child goes up through the art levels it is assumed they are of a higher level in all their studies. I find this really useful, but if you had a child that just happened to be super good in art you could just adapt the content to something you need. Of course these are just suggestions and not mandatory. If your child wants to just do the art lesson then that's great as well. I encouraged Boo to look at the extra information because she was interested in the history and other information. However, I didn't make her do any extra assignments. It was more of a 'interest led' journey.
If you have a visual learner I would highly recommend this art course. My kids prefer it to reading a book and trying to follow printed instructions. Boo likes that she can actually see the guy painting and it really helps her imagine the final project. Although we didn't get through every art project I know that sometime over the summer my kids will try their hand at all of them. Plus, Captain will bug me until I purchase him the licence for level 1.
You can follow the company on social media by clicking on the following links.
Facebook
Instagram
Twitter
Pinterest
Google Plus
Check out what other's thought of the program by clicking on the link below. Members of the crew all used different levels so there is something for everyone - no matter the age of your child.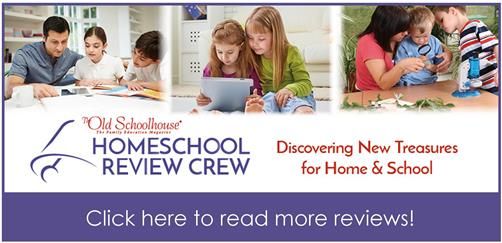 Disclosure of Material Connection: Some of the links in the post above are "affiliate links." This means if you click on the link and purchase the item, I will receive an affiliate commission. Regardless, I only recommend products or services I use personally and believe will add value to my readers. I am disclosing this in accordance with the Federal Trade Commission's 16 CFR, Part 255: "Guides Concerning the Use of Endorsements and Testimonials in Advertising." ©2011-2017 Chickensbunniesandhomeschool. All rights reserved. All text, photographs, artwork, and other content may not be reproduced or transmitted in any form without the written consent of the author Chickensbunniesandhomeschool.blogspot.com