My kids love art and so my older two were really please to review a new
homeschool art curriculum
from
ArtAchieve
. There are three levels available and we have been working with level III the highest of the levels.
Although I love art I'm not really talented or educated enough to teach my older kids now we have moved out of the glue stick and construction paper art phase. This is one of the reasons I loved this program so much. The lessons are taught in video format so the kids actually get to see how the project is supposed to look before they try it. They can watch the whole process before they begin or they can pause it as they work so they can take their time.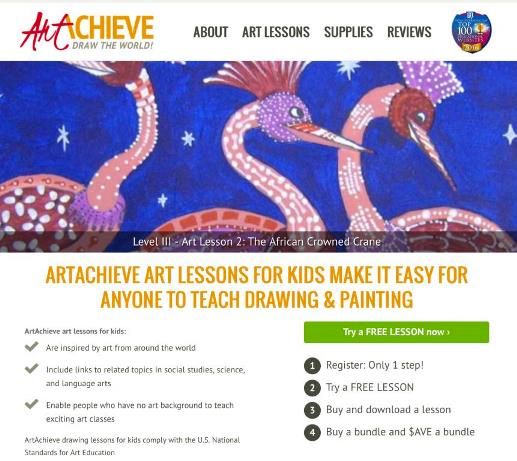 As I said earlier I chose to work on level III for my high-schoolers. We are schooling through the summer but on a lighter schedule so it's been fun to spend more time doing art projects than we can sometimes give during the regular school year when we get so busy with our regular schedule.
It's easy to prepare for the art classes in fact there is a supply list posted online
here.
The list is mainly supplies that you would already have, especially if you have worked on any type of homeschool art program before - from black sharpies to a knead-able eraser and everything in between. Nothing that you couldn't quickly order online or find in a craft store. We already had pastels, charcoal, markers and water colors so we were set!
Level III comes with twelve lessons.
1. The Hawaiian Frog
2. The African Crowned Crane
3. The Chinese Horse
4. The Face From Gambia
5. The Pacific Northwest Totem Pole
6. The Eastern European Firebird
7. The Woodcarving from Kenya
8. Kandinsky Color Mixing
9. The Nine Banded Armadillo
10. The Russian Matryoshka
11. The Canada Goose
12. Da Vinci's Clock
Although my kids love to draw and create artistically I'm not saying we are brilliant artists. That's one of the things that drew me into this program. They believe that anyone can learn to draw and that it is an essential skill. You don't even have to purchase the program to begin with. In fact they encourage you to use their free lessons first. I'm sure once you do you will want more! Their lessons help you build skills upon skills in a similar way you learn other subjects like math and reading.
I also love that the lessons (as you can tell by the titles above) come from all areas of the world and a variety of cultures. So not only is the child learning to draw they are learning geography, history and even literature.
My older kids signed into the program individually, they didn't want to 'compare' their finished results and so they always worked on different lessons. This was easy because they have their own laptops and so they got the art supplies out that were needed for their individual lessons, logged into the program, put in their earbuds and worked away. The lessons recommended playing music to relax and this worked sometimes if only one of them was working but most of the time they played music while they were setting up and then switched to their own individual lesson. This was very efficient and since they work independently and I was able to work on something with Captain at the same time.
I loved the variety in the lesson material and so did the kids. In fact sometimes they would start research on the lesson topic and learn about it. I find kids learn more when they do research on their own don't you!


Disclosure of Material Connection: Some of the links in the post above are "affiliate links." This means if you click on the link and purchase the item, I will receive an affiliate commission. Regardless, I only recommend products or services I use personally and believe will add value to my readers. I am disclosing this in accordance with the Federal Trade Commission's 16 CFR, Part 255: "Guides Concerning the Use of Endorsements and Testimonials in Advertising." ©2011-2015 Chickensbunniesandhomeschool. All rights reserved. All text, photographs, artwork, and other content may not be reproduced or transmitted in any form without the written consent of the author Chickensbunniesandhomeschool.blogspot.com