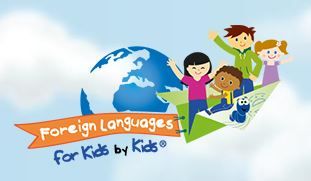 We have been using the
Starter Set 1
with Captain from
Foreign Languages for Kids by Kids
to learn Spanish this summer.
I received
;
DVD with videos for Levels 1-3
Three Parent-Teacher Guides which sets out a detailed lesson plan, with a suggested viewing schedule and a variety if fun, supplemental and hands on activities to choose from to reinforce the material taught in the videos.
Flashcards and Card Games for Levels 1 to 3
Workbooks for Levels 1-3
Stickers for Levels 1-3
Captain is a very visual learner and this program had barely arrived when he realized what it was and stuck the DVD in the player.
Each level has a parent-teacher guide so I had to quickly jump in and read it to catch up with Captain as he wanted to go go go with this program. I of course started with the parent guide to level 1, When you open the parent guide the first section you read is called 'program overview' it explains a little behind the concept. The videos start at 8:00 am (breakfast) and end at 8:00 pm (bedtime) and shows what could be a typical weekend day of a family. However, there are lots of twists and turns and fun and laughter. Captain started copying phrases the very first time he watched and what was even better was he understood what was being said - everything is in Spanish there is no translating and no English subtitles. Of course there are other aspects to the course and I'll explain that in more detail as I tell you how we used it.
My goal is for Captain to feel comfortable with Spanish so in the long run he can communicate easily. Wouldn't that be awesome to be fluent in another language. We have used other immersion programs so Captain wasn't surprised when it was in 100% Spanish. If not he may have been a little surprised so if you are using something like this for the first time, you may find a little push back from your child. However, it is well worth the perseverance - you will definitely see results quicker than other types of programs.
How We Used It:
The teacher guide is broken down into lessons and so this program is really each to teach - even without a lot of Spanish knowledge. You can do a short lesson by just watching the video and completing the rapid review (found at the end of the video) or a longer lesson by adding more of the optional material in. We did some of both - depending on how well Captain seemed to pick up on the vocabulary.
There is a video summary - for parent use only (so you know what's going on). Plus a vocabulary list. There is even a little note at the bottom related to some geography facts to share with your child. After reading the lesson it's really easy to jump straight in. Honestly there is not a lot of preparation which is super important to me! I like open and go!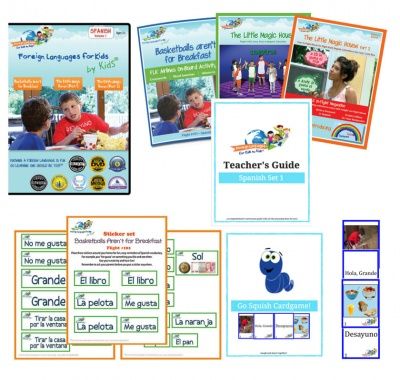 We completed one lesson twice a week and it was easy and fun for both of us!
Let me run you through lesson 1 -
Watch the assigned video clip from the DVD
Discuss during and after the video about the vocabulary and what is happening.
Discuss the Geography - talk about Lima, Peru - We looked for it on our globe and did some online research.
Lesson 2 added some of the other materials I was sent - stickers! Now my hubby and I don't like stickers around the house so we did more of a game with these - I gave Captain a sticker (still on the paper and he had to find the item in the house that matched the Spanish word. He liked it and it didn't ruin my furniture or TV.
By the time you get to lesson 3 you introduce the workbook. Captain loves the workbooks. They are quite thin and so I don't think they were very intimidating. Plus they feel nice... I know that sounds strange but it's true the paper is very smooth and a little glossy with bright vibrant colors. They are fun! I could tell because Captain wanted to work in them! In fact they are called 'In-Flight Magazine' and that's definitely what they feel like!
We love this program and will definitely be finishing it! The books are consumable but since Captain is my youngest that's okay if not you would definitely want to purchase extra books. This is by far my favorite home school Spanish program!
Check out what others thought by clicking on the link below!


Disclosure of Material Connection: Some of the links in the post above are "affiliate links." This means if you click on the link and purchase the item, I will receive an affiliate commission. Regardless, I only recommend products or services I use personally and believe will add value to my readers. I am disclosing this in accordance with the Federal Trade Commission's 16 CFR, Part 255: "Guides Concerning the Use of Endorsements and Testimonials in Advertising." ©2011-2016 Chickensbunniesandhomeschool. All rights reserved. All text, photographs, artwork, and other content may not be reproduced or transmitted in any form without the written consent of the author Chickensbunniesandhomeschool.blogspot.com